The MGA With An Attitude


MGA Guru Is GOING MOBILE - (December 1, 2015 - December 15, 2015)


Tuesday December 1, 2015
A new month and a new state (except we have been here before, like all 48). Early WiFi today followed by a short hop west on I-30, followed by mid day WiFi followed by an evening hop west into McKinney and Plano, TX.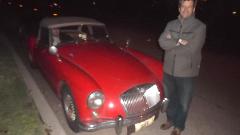 We had a late-arranged appointment with Andrew Kueny in Plano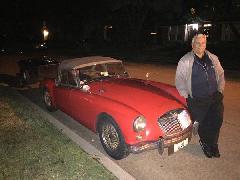 who has a nice MGA which he now drives on weekends, but it is currently in a remote garage (and he swears it would never be drivable without MGAguru.com). We had a nice chat followed by more chat over dinner, followed by perusal of the motor home after dark. That's the best picture you get in the dark with my cheap Fugi, but Andrew's cell phone does better in the dark.

Wednesday December 2, 2015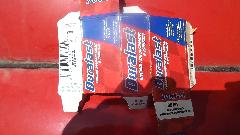 Day off. This may be a good time to report that we may have a winner in the search for a good brake light pressure switch. After several consecutive switch failures at intervals of 3 to 8 weeks, 5000 to 8000 miles each, we have one that seems to be surviving. Duralast RB401 (Made in Spain), purchased at Autozone, installed July 3, 2015 at 303,538-miles. Now at 318,362-miles, five months and nearly 15,000 miles on, it still works.

Thursday December 3, 2015
Friday December 4, 2015
Day off; day off. Pretty easy just killing time. I suspect there may be more of this on the second lap around the country, as we attempt to meet the car clubs that we had a hard time with on the last lap. Couple of Chicago club folks having some problems with FTP on the club web server. Tech questions and web pages, business as usual for the guru.

Saturday December 5, 2015
Breakfast meeting with Collin County Breakfast Club (a group from Texas MG Register) at Tony's Café in Plano, TX. About 15 people present. Three of four MGB V8's, an MGA Twin Cam, and an MG Magnette MK-IV.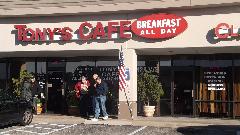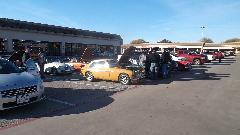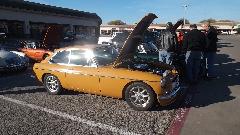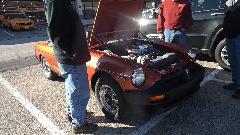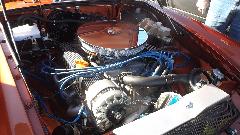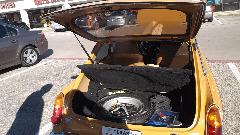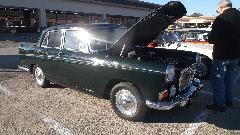 On the V8's, every time I see one of these thick oversize aluminum radiators there is an electric fan. Foor for thought. One picture I couldn't pass up. Gas struts for the luggage cover panel in the GT.

This MG Magnette MK-IV may be the only one in the country, as it was not originally sold the USA. Larger all over than the MK-III, 1622cc engine, RHD, cavernous boot, lots of space inside.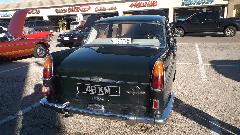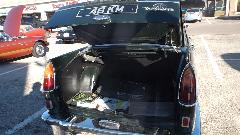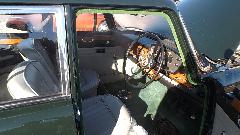 Sunday December 6, 2015
Navigator had an appointment at Game Master in Rowlett TX. Been there before in late March. Good way to kill a day while the car clubs are silent.

Monday December 7, 2015
A few miles farther away from Dallas in Rockwall, TX. Found a quiet place to work while I post the December issue of the CMGC newsletter on line.

Tuesday December 8, 2015
Wednesday December 9, 2015
No one waving their hand in Texas, so we sit still in Rockwall for a while.

Thursday December 10, 2015
One cancelled appointment, two club meetings scheduled next week. Added a year (2017) to the CMGC web site calendar, because NAMGAR has already scheduled GT-42 in Solvang, California.

Friday December 11, 2015
Anticipating next appointment, took a 70 mile drive on the expressways though Dallas and Fort Worth to Azle, TX. Lots of email and BBS activity. No rest for the guru.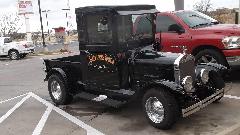 Occasionally when I'm bored I just look around and take some pictures. This one just popped up in my face, so I snatched it for kicks. I have no idea what's powering this "1924 Ford", but pretty sure it's a V8 with a lot of kick. Modern convenience of air conditioning (important in Texas). The unusual bit that caught my attention was air bag suspension. It certainly looks like it works.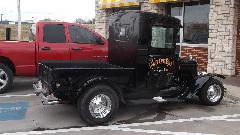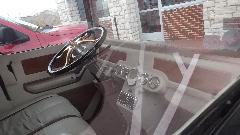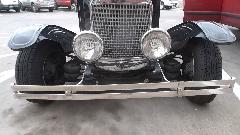 Saturday December 12, 2015
Today's appointment turned into a long phone call with Greg Poffenbarger in Azle, TX. He has an early pull handle MGB with later 5-main bearing engine and an odd set of dash instruments. It has the original Jaeger speedometer, and a Smiths electric tach from 65-'67 MGB (common with the later engine). It also has a Smiths thermal fuel gauge and a Voltage Stabilizer to power it, which naturally works backward with the early sending unit (intended for use with the magnetic fuel gauge). Turning the sender unit upside down works in the right direction but runs out of fuel when the gauge still reads 1/2. Either the gauge or the sender unit has to change.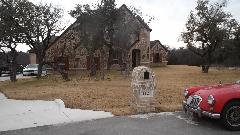 In mid afternoon we got a brief visit from a local with an MGA. Just a matter of being in the right place at the right time. In a short time we were five miles south of town visiting Ted Shannon in rural Azle, TX. This 1959 MGA 1500 was purchased new by his father, and is mostly unmolested, mostly original. After a difficult start, and tapping on the float cover to free up a stuck float valve, it runs very well. The alternator is of course a transplant. The ignition coil was moved from top of generator to top of the angled frame rail.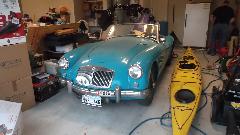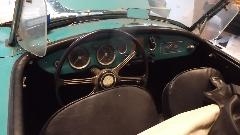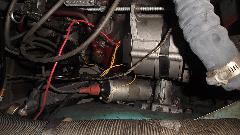 After a good warm up I noticed it was idling at 185dF, and the radiator was original factory issue cell core type. I don't pass up a good opportunity for a functional test. We found a large sheet of paper to cover most of the radiator, restricting air flow until the coolant temperature would rise to 205dF. Then remove the paper and put the clock on it. In less than five minutes coolant temperature was back to 185dF while it was idling (and no fan shroud). One more recommendation for the original cell core radiator.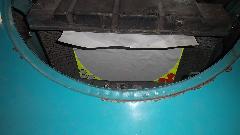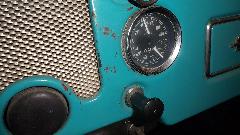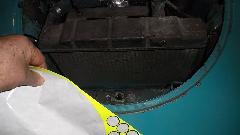 There's one happy MGA owner and it didn't require prompting. Original grille (very nice), original paint, original fender piping, 56 years old and still dull silver as original.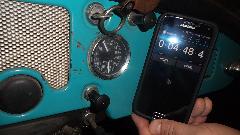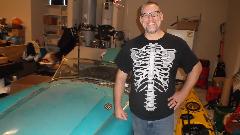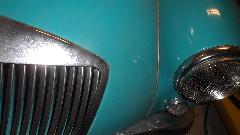 Sunday December 13, 2015
Today we are two hours farther south to visit Clay Sawyer in Waco, TX. He has an MGA hiding somewhere and claims to have been referencing MGAguru.com for three years. But today's object of envy is his Cobra. This is built from a kit supplied by E.R.A. Replica Automobiles in New Britain, CT. It is possibly the most faithful copy of an original 427 Cobra. Notice front and rear tires all the same size (with ample space under the wings), no lake pipes, no hood scoop, and the front vents are ducted to supply fresh air to the passengers, (not to cool the brakes). Also the "splitter" in the front grill that is seldom seen in replicas. Wheels are original type 5-stud pin-drive knock-off wheels with authentic original 3-ear spinners.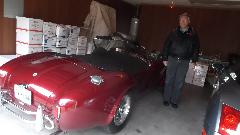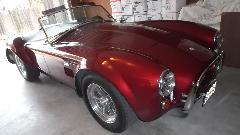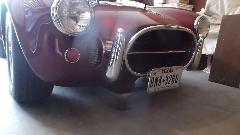 There is ample space in the boot to carry the erectable top and tonneau cover and side curtains (and more space to spare). There is the original type and style of instruments and switches, original dash layout including the padded and leather lined glove box. Also the original style forward leaning shift lever that you hold with finger tips and operate mostly by moving your elbow. No power steering, no power brakes, no air conditioning, just the basics required to make it go, all in the spirit of the original street going light racing roadster (but it does have a heater).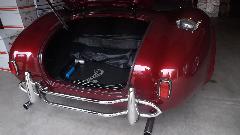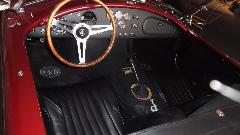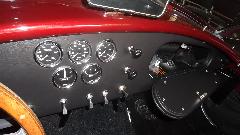 The engine is actually a near stock 390-cid 4-bbl, just a bit smaller bore than the 427. I think he said it dyno'd 360-hp at the wheels, but that's enough to highly motivate a 2400 pound car. The engine is well set back in the chassis to give 48F/52R weight distribution. Rear drive is a Jaguar differential with inboard disc brakes and independent suspension (as original issue). The front hubs (oddly enough) are Chevrolet parts to have the same bolt circle so the wheels will fit all four corners.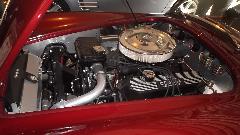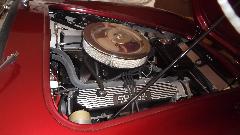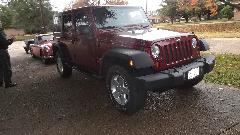 After adequate drooling over the Cobra, we checked out Clay's daily driver Jeep. Then we were off to the 96 year old Elite restaurant in Waco for lunch, where we spotted the nifty 1954 Cadillac Eldorado on display.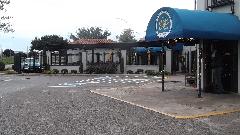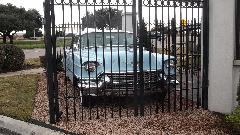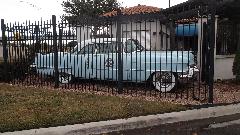 Monday December 14, 2015
Must have been a day off, meaning no appointments. Spent a lot of time probing email and form-mail and search engines and phone calls, trying to make contacts with Capital City MG Club (Austin TX) and/or Corpus Christi MG Car Club (Corpus Christi TX). We had tried to contact these clubs in March with no luck. Similarly now, no luck. All indications are that Cap City would have a dinner meeting in Austin on the third Tuesday every month (15 Dec), and Corpus Christi would have a dinner meeting in Corpus Christi on the third Wednesday every month (16 Dec). There was no indication of any "holiday party" or alternate plans or cancelled meetings. We were determined to try to meet with these clubs in spite of lack of communication, and we had been hanging around Texas for the past two weeks for this specific purpose.

Tuesday December 15, 2015
Busy day, starting with a WiFi session in Georgetown, TX. Of course we are always "fishing", and today we caught something. In late morning, a bloke wearing an MG hat walked up to say, "You must belong to that MGA out there". Yup, followed by at least a half hour of friendly chat. That would be Russel Hertzog in Georgetown, TX, owner of multiple MGs which he would be happy to show us. So we began to hustle to fit in the extra appointment. We arrived shortly at his place to see the first few of his MGs. Begin with a 1950 MG TD, a 1932 MG J2 cycle fender car and a 1933 MG J2 swept fender car.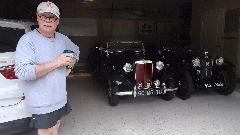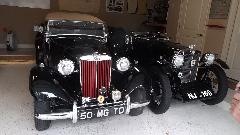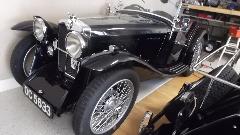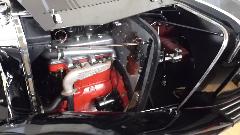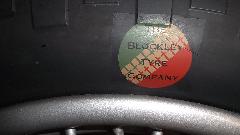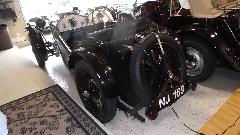 Then we motored off to a storage facility where Russel had a couple more cars tucked away. The first of these was a 1929 MG M-type, an early production car built before the company move to Abingdon. This one was restored and painted in the colors of four factory works cars used for racing (and eight more later production copies). It had a number of upgrades like extra dash instruments (and a clock), but one notable flaw. Apparently the dynamo would discharge nicely but wouldn't charge at all. Something needing to be tweaked in the adjustable brush gear I suppose.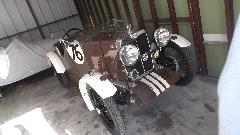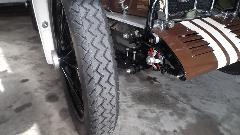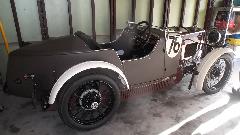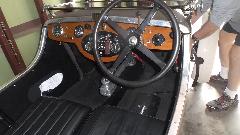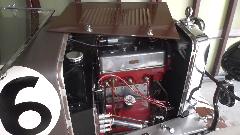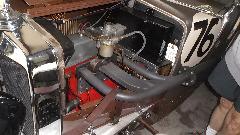 Tucked in behind the M-type was a nice Austin Healey "Bug-Eye" Sprite. This is an all original car, very low mileage, and absolutely wonderful.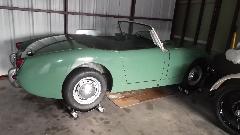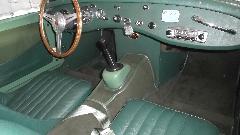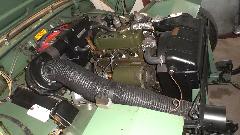 Then we turned it south to visit Rally Restorations in Austin, Texas. This business turned out to be a bit larger than we expected. It was actually three businesses under common ownership, each run independently. Rally Restorations specializes in restoration of vintage cars.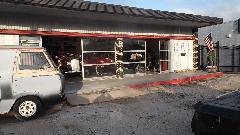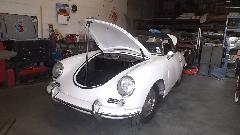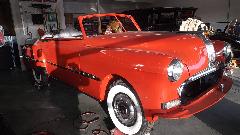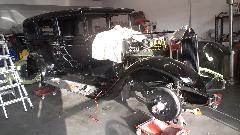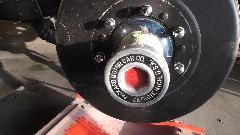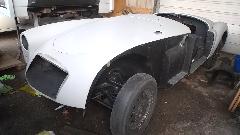 Next door is Colvin Automotive Body Works, where they like to restore American muscle cars (and other things with more power then anyone needs). The interesting car out front is a Local Motors Rally Fighter built in Chandler, Arizona. Mid-engine 6.2 Liter, 430 Horsepower, 4-speed Automatic transmission, rear wheel drive. Put down your hundred grand and go off road racing. They build a couple cars per year.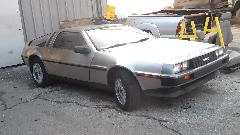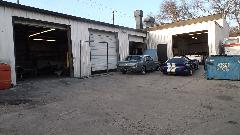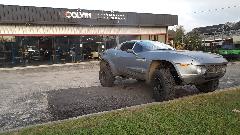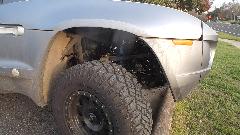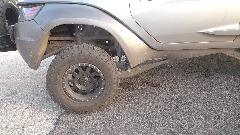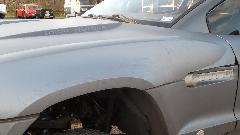 Across the street is Colvin Automotive Service and Repairs where they are doing mechanical work. Today they were working on an Aston Martin and a TR Spitfire (among other things). I believe the employees in these businesses really enjoy their work.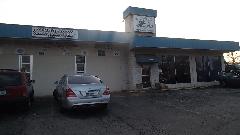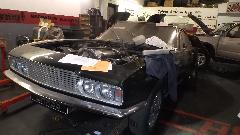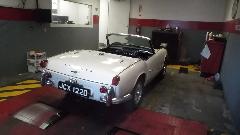 Then we were off for the prime objective of the day, a dinner meeting with Capital City MG Club at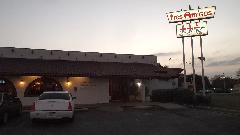 Tres Amigos Restaurant in Austin, Texas. Instruction said meeting at 7-pm, come early for dinner (we guess maybe 6-pm), and the meeting should be finished by 8:30. We accidentally arrived a bit early, about 5:45. We inquired at the front desk, and sure enough the car club had a reservation tonight, so we waited patiently. It was a fizzle. We inquired again a bit after 7-pm, and management was baffled that no one showed up, as they were usually arriving by 6:30. They didn't have anyone's phone number either. Bummer (but it happens occasionally). So we were off to find a WiFi spot to post these photos and notes.