The MGA With An Attitude

GONE SAILING
Lake Michigan, November 11, 2009

Sometimes MG people get together to do "other" interesting things. I bumped into an MG club member, John Kearns, at natter 'n' noggin Tuesdsy night who drives a nice MGB and owns a sail boat. He was soliciting for hands to go sailing any or every day for the rest of the week, so I took him up on the proposition.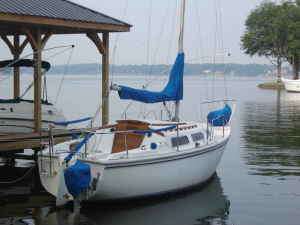 Another new friend from Naperville, dropped my place just after 9 am Wednesday, left his car at my place, and we took the MGA. We popped into Belmont Harbor (Lincoln Park) at 10 am, parked next to the MGB, got on a Catalina 25 foot sail boat (4 people) by 10:30, and were out of the harbor by 11-ish.

A little chilly with full sun, fall coats and light gloves were order of the day. We spent a couple hours tacking back and forth going into a southeast wind to get far enough south and east to get around the end of Navy Pier, then made it a little farther south to dock in Monroe Harbor (at end of the Congress Expressway). Friend from Naperville was first time on a boat, and he got sea sick pretty bad. I was a veteran of white water rafting, so this stuff didn't bother me at all. I enjoyed standing on the cabin up front for the wavy ride.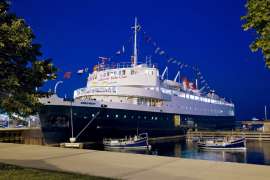 We had lunch at the Columbia Yacht Club, which is housed in an old ferry boat that used to haul rail cars, trucks, autos and people (in high style) around the Great Lakes. Nice old ship, and huge. Sea sick friend was feeling a little better, but opted not to take the boat back. He hopped a cab to a downtown law office for a little business, then took a train home.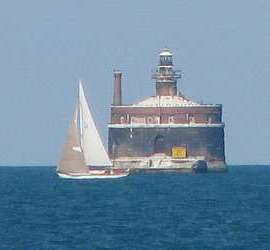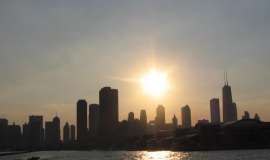 Back on the sail boat at 4 pm, wind shifted to the northeast, just to make the trip back more interesting. Three of us headed almost due east out into the lake, tacking 30 degrees into the wind, watching sunset on the city about 4:40 pm from 2 miles out. About 3 miles out and just short of a water crib we turned northwest tacking 30 degrees the other way into the wind. The planed path worked out well as we managed a straight line from there back into Belmont Harbor. Fairly dark for the last 45 minutes, using binoculars to spot the city lights and buildings and zero in on the harbor mouth, we arrived at 6 pm (somewhat quicker than the trip south).

I hung around another couple hours to help button up the boat and socialize some. It turned out to be a memorable day, first time sailing, lunch at the yacht club, about 5 hours on a somewhat choppy lake in a moderately small boat, lots of fun there actually. End of sailing season in early November, most boats out of the water by now, we only saw one other boat on the way south and no other boats on the way back. Life is a little different in the slow lane at 3 to 4 knots. Something to contemplate on the way home in the MGA, maybe keeping it under 60 on the expressway, getting home at 10 pm.