The MGA With An Attitude
| | | |
| --- | --- | --- |
| MGAguru.com | <!EMBED src="../music/talesofcrypt.mid" height=25 width=300 controls="ControlPanel" autostart="true" loop="true"> | MGAguru.com |
Spring Break 2002 - a Run to Key West
If you were reading about the MGA ODYSSEY in 1989, you may recall there were a couple of delays in Florida, six days total, meaning the MGA only got as far south as Tampa - St Pete before having to run back north. The car certainly didn't owe me anything after that, but I felt like we had short changed the car a little at the time, and it still deserved that trip to Key West, even if it did take thirteen years getting around to it. So now Elliot is 12-1/2, going on 13, and he has never been to Disney World, so this is as good a time as any (and better late than never). It's a good time for a quickie road trip, before the new driving season gets rolling great guns.

Since the MGA is always ready to roll anywhere and any time, preparation is quite simple. I post an email note to our local club officers mentioning that the newsletter will be a few days late going to press this month. And I post a note on the mgs email list to let people know where we're going and when. This is another last minute whim sort of thing, so it has only a couple days notice before we hit the road. None the less we have one request for a stop over not too far out of our way, and we will be making a slight detour through the Carolinas on the way down. We toss the race tires out of the little trailer to make space for a couple of suit cases and pillows (to go with the camping gear that's always in the trailer). Include the big ice chest and a couple of rectangular trash cans for food and cooking utensils. The car has just had an oil change, so six quarts of oil and the tool box should be everything the car will need, no bother packing much in the line of parts for a mere ten day trip. And we're ready.

Departure is promptly at 5:30 AM on the ides of March (Friday 3/22), still a little dark out, and 9-degrees Fahrenheit. That may seem a bit chilly, but hey, this is Chicago, the top is up, side curtains are in, and the heater is working, so no big deal. Since we will be traveling a bit farther east, rather than making a B-line south through Illinois we opt for a more scenic route through southern Ohio. We hit the expressways and fly through the more common states close to home. First fuel stop is Greensburg, Indiana, southeast of Indianapolis, and not even lunch time yet. Then we sail around the south side of Cincinnati, bail off the expressway, and cruise along the north side of the Ohio River on US-52. Good time to find the first roadside table and break out the 20-minute lunch, after which we get to wave at Kentucky across the river for a few hours.

Then we sail down I-64, and the next fuel stop is Charleston, West Virginia, where we open the trailer just long enough to throw a few sandwiches together and grab some sodas. I-64 merges with I-77, then say goodbye to I-64 near Beckley, merge in and out with I-81 as we dash through the western tip of Virginia, find Fancy Gap Highway (US-52 again for a little break)) to cross into North Carolina and take us into Winston-Salem where we catch I-40 (because it's getting dark out here). One more fuel stop in Greensboro (4th fuel stop today), continue east, merge into I-85, say goodbye to I-40, sail around the north side of Durham, catch US-70 south and find Holloway Street going east. This soon becomes Wake Forest Highway, then changes to Durham Road, and we finally end up in Wake Forest, North Carolina around 9:30 PM (after a change of time zone). Our odometer calls it 870 miles in 15 hours, not bad when it included some state highways and a few side roads. Say hello to Glenn Johnson and family, chat until late, get some sleep, and figure on a late morning start tomorrow.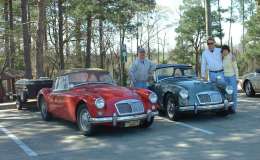 Saturday 3/23 is going to be a short mileage casual cruise day with friends. We have Glenn and his wife with their MGA to lead the way, and as long as they're heading generally south we're not too concerned where they like to wander. An hour and change later we do a short fuel stop at Fayetteville. After that I have no clue what roads we took, but not all expressway, finding our way to Charleston, South Carolina, around 6:00 PM. We collectively have dinner at some nice restaurant. The Johnsons have reservations at a really sweet hotel in Charleston, but alas there is no more room at the inn, so in late evening we bid them farewell and head southwest on US-17. An hour later we do a final fuel stop for the day at Sheldon, Somewhere down I-95 (Ridgeland maybe, still in SC) we find an Econo Inn so we don't have to pitch the tent in the dark, and we can get an early start tomorrow. Just under 400 miles today. Dang, two days on the road and still no camping.

Sunday morning we blow right through Georgia without setting foot in the state, and we fuel up in Ormond Beach, Florida, just a stone's throw from Daytona Beach. We drive by almost within spitting distance of Daytona International Speedway. We had a little time to spare, and in retrospect I'm sorry we didn't stop for a quick look, but that's not what we had on our minds at the time. We do hit the K-Mart for some new shorts, and Circuit City to get a new PC modem card for the laptop computer (because some unnamed soul lost the phone adapter wire). Then we bail off of I-95 and head down I-4. A couple hours later we are doing an early check-in at Fort Summit KOA in Davenport, Florida. This is a bit of an overshoot for us, but it's cheap camping ($15/day with our KOA card) 20 miles south of Disney World. So far 350 miles today, but we do some more shuffling around with the time available, pitch the tent, cook up dinner, and SWIMMING! Long gone are the thoughts of 9dF at home just a few days ago.

On Monday 3/25 we get to spend the whole day at Disney World from 9:00 AM opening until they will toss us out at midnight. We start with four or five hours hitting the rides in the fun park. Sign up early in the day and get two quick passes so you can go the head of the line for a couple of the more popular rides. My favorite was Space Mountain roller coaster in the dark. Early afternoon we hop the ferry boat to Fort Wilderness Marina where, among other things, we rent a little personal speedboat for an hour to go tooling around the lake. Other boats obviously go faster with two small people or only one adult, so after 45 minutes I get out and leave it to Elliot to see what he can make it do. His 15 minutes turns into 45 minutes, so we get to pay for the extra half hour, but what the heck, a 13 year old kid has to do something when he gets to pull out all the stops. He will tell you that those little speedboats will get up on plane and go MUCH faster with only one on board.

Back to the main park we hop on the monorail to spend a few hours at Epcot Center. All good fun, but not the highlight of the day. Keeping an eye on the clock we're back at the main park before 9:00 PM for fireworks followed by the Main Street Electrical Parade, lasting about an hour. After 10:00 PM the population thins out considerably, so we can go around and around on our favorite coaster rides almost as quick as we can get back in line. Come midnight they finally pull the switch on everything and chase us out of the park. Thank goodness for the shuttle trolley back to the parking lot, because we were pretty well pooped after 15 hours of jolly good fun. Back to the KOA about 1:00 AM, crash in and wait for the sun to bake us out of the tent in the morning.

On the road again on Tuesday we head south then east, 80 miles on we gas up in Fort Drum, then head south on US-441 past Lake Okeechobee. We scoot right past Miami to Key Largo and head west on the Overseas Highway (US-1), filling up again in Tavernier. Then onward and westward to Sugarloaf Key KOA, sneaky distance (20 miles) from Key West, because this is the only campground in the area. 355 miles for the day, and we will sleep well.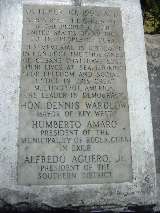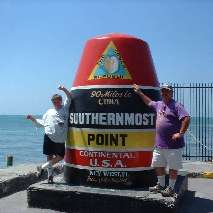 Ah, it's Wednesday, 3/27, and this is why we came. Just 20 miles more to downtown Key West where we drive around the historic town for a while, then walk around town for a while, then visit the Key West Aquarium and marine museum. Having enough of the tourist trap stuff we head for the big marker with the "90 Miles to Cuba" sign, the southern most point in the continental United States. Then we go east a bit to find the beach, and it's time for Elliot's first swim in ocean salt water. Swimming head down and feet up is not exactly natural for him, but it's the only way to get to the bottom when you float like a cork.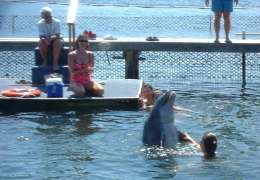 Heading back east we stop at the Dolphin Research Center in Marathon. We didn't have the right reservations to swim with the dolphins, but we did get to watch the show. Getting back to Key Largo we wanted to take the glass bottom boat and go snorkel with the tropical fish at John Pennekamp Coral Reef State Park. Unfortunately we missed the last boat out for the day by 20 minutes, and we have more road to go today, so we have to skip that one. We pick up a couple of Florida T-shirts before leaving the Keys, then on our way again.

Back on the mainland (so to speak), we gas it up in Homestead, then head west on the Tamiami Trail (US-41). It's mostly swamps with alligators and hidden panthers out here, not much traffic. Due to time constraints we resist the urge for a slight side trip on FL-94 through Pinecrest (although I would like to do that some day). Pushing dusk we find the campground in Everglades City and deal with a night of humidity, about 240 miles for the day.



On Thursday 3/28 we have a few tourist type things on the agenda. First up is Captain Doug's Airboat Tours where we get to grouse around the backwaters of the Everglades for an hour to check out the Florida wildlife. Alligators yes, but also wild boar, porcupine, raccoon, turkey, pelican, egret, crab, eagle, vulture, and a variety of snakes (sorry, no panthers in sight). Elliot wanted to crank the airboat up for a bit of a spin, giving the other passengers a little concern I'm sure, but it was only for a picture.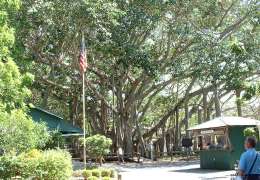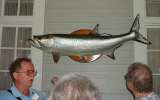 Then we continued west and north on the Tamiami Trail through Naples to Fort Myers, where it was time for fuel again, then take in the Edison/Ford Tour. This is mostly a tour of Thomas Edison's winter home, workshop and botanical gardens, and Henry Ford's winter home happens to be next door. I've been there twice, and I'd stop in again if I was in the neighborhood, jolly good tour. The Banyon tree alone is worth the stop, and the stories in Edison's laboratory are mind boggling.

Sticking to the Tamiami Trail we find South Venice and continue up the gulf coast. Somewhere along here we stop for a swim in the clearer waters of the Gulf of Mexico. Come late evening we check into a Motel-6 in Bradenton, as it is raining in Florida (no great surprise), and we wanted to plug into a phone line to check email again. Only 170 miles today, but we did have fun playing along the way.

Running out of play time, on Friday we hop on I-75 to make some time and miles heading north, taking on fuel in Ocala. Night stop is a KOA near Wenona, Georgia, just south of Cordele (goodbye Florida). Only 360 miles today, not sure why we were so slow, heavy traffic in Florida I guess, but we will do better tomorrow.

Saturday morning fuel stop in Unidilla, Georgia, sailing up I-75, stop again for fuel in Chattanooga, Tennessee, then a short dip back south into Georgia as we shift onto I-24 heading west. Play time for a few hours as we take the tour of the underground lake at Ruby Falls, visit Lookout Mountain, Rock City, ride the inclined railway. Back into Tennessee again, I get to try out the "fast street cam" from Crane Cams in the 6% and 7% grades on the mountain hills up I-24. With the stock 1500 engine I used to tow the trailer up these hills at 60-mph in 3rd gear in the truck lane. With the new cam, the 1600 block, and the early MGB head, if it's doing 70 or 75-mph at the bottom of the hill it will still be doing the same speed at the top of the hill, cruising right up the grade in 4th gear with the traffic in the fast lane. My, my! This thing is downright wonderful. I think I will call it my "towing cam". The miles fly right by, and we land late and pig out on pizza at Knights Inn in Nashville, just over 400 miles for the day.

For Sunday 3/31, just to be a little different and avoid most of Illinois, we point it up I-65 through Bowling Green and Louisville, tanking it up at a Chevron somewhere in Kentucky. Cruising up I-65, about 80 miles south of Indianapolis, the engine starts to sputter a little with some ignition issue, so I pull of on the shoulder for a look under the bonnet. For a while I thought I was charmed, as this is the first time I've opened the tool box in 3500 miles, and it's one day too early to be April Fool's Day. Well it's not a big deal, just the leading set of contact points in the Mallory Dual Points Distributor barely opening, while the trailing set looks fine. I can't remember the last time I adjusted the points, probably with the new engine transplant 18 months and 10,000 miles earlier. Last record was points replacement 5 years and 60,000 miles earlier. The Mallory is so robust and trouble free that I tend to take it for granted and ignore it a lot, and it usually goes at least 12,000 miles between points adjustments. So I just set the gap with my thumbnail, and we're off again in 5 minutes. About 20 miles later it backfires once and dies instantly. Now what? This time I find the same points set has broken the spring arm, and the spring is grounded on the housing. I did say no parts for this trip, right? Once again no big deal as the Mallory carries its own spare points. (Dual points, remember)? This time I just disconnect the leading points, then rotate the distributor a bit for advancing to make the trailing points open at the right time, and we're off again in less than 10 minutes. It runs just as well on single points, maybe not so many thousands of miles. One more fueling stop in Lafayette, Indiana. I-80 in Indiana and Illinois followed by I-294 and I-88 are no problem late on a Sunday evening, and we arrive home before dark with right on 500 miles for the day.

The odometer says two miles shy of 3800 miles in 10 days of travel. Not bad for a 44 year old car with 325,000 miles, but I do give it two new sets of contact points the next day. At the next club meeting two weeks later some folks are wondering why we have such a deep sun tan in April, and the next weekend the car gets its second oil change of the season at the Spring Tune-Up Party.