The MGA With An Attitude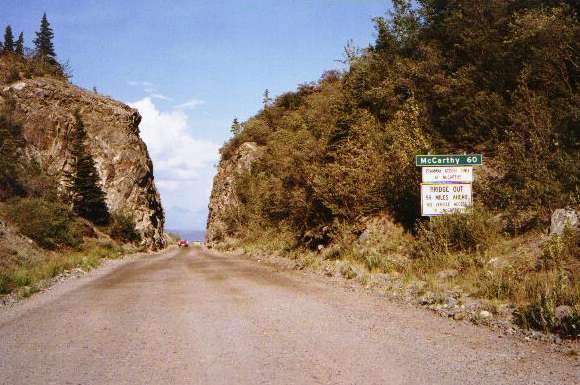 Yep, that's the MGA on McCarthy Road.
This is just the good part at the beginning, the come-on to lure you in..

In 1997 the sign said:
McCARTHY 60
Tramway access only at McCarthy
BRIDGE OUT
59 miles ahead
No Vehicle Access To McCarthy

Addendum, August 2012:
Del Rawlins in Alaska <!-del at rawlinsbrothers.org-> wrote:
"The bridge referred to had washed out decades previously. The state eventually built a new "foot bridge" at considerable expense, that is wide enough for some ATVs to get across. Therefore, they sunk concrete filled steel posts as barricades so people couldn't do this. Which the locals promptly cut out using a smoke wrench. So they welded them back in. And then they were cut out again. And so on, and so forth. I heard that they were welded back and removed something like 14 times before somebody was able to bring the situation to then governor Frank Murkowski's attention. They have not been reinstalled since.

The aerial tramway, which had been built by the locals, was taken out when the foot bridge was built, but pieces of it are still laying there. There is also now a privately owned vehicle bridge for which a yearly pass can be purchased from a local contracting company. It costs a few hundred a year, so the only people who buy the pass are locals or people with property there".







Thank you for your comments -- Send e-mail to <Barney Gaylord>
© 1998, 2012 Barney Gaylord -- Copyright and reprint information