The MGA With An Attitude
TIRE CARRIER, Unknown - AT-102J
This one is almost self-explanatory, attached to the bumper support brackets (which are very strong). In traveling position it sits low to the rear and very close to the boot lid, perhaps holding the spare tire below line of sight of the rear view mirror. Loosen a couple of wing nuts, and it hinges up and back for access to the boot. Simple and functional, and no need to drill holes in the boot lid.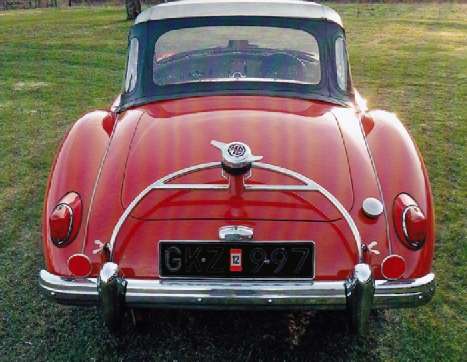 Unfortunately I don't know the manufacturer. This picture is (or was) part of a Twin Cam car for sale ad at www.peteredney.co.uk (which quickly changes to http://mg-parts.co.uk). For as long as it lasts, the web page for the car is:
http://mg-parts.co.uk/index.php?route=product/product&path=1772&product_id=9482
Click on "Additional Images".