The MGA With An Attitude
Grill Guard and Badge Bar, ARNOLT -- AT-104C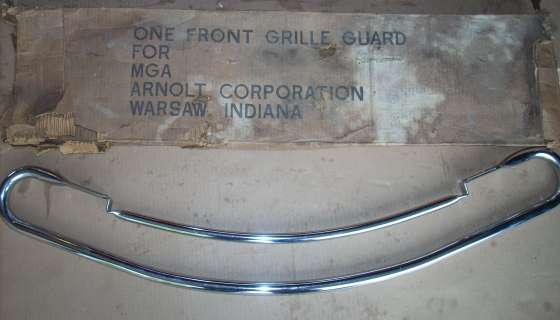 Here is a combination grill guard and badge bar that was manufactured by Arnolt Corporation. This one looks like it may actually work as a grill guard. The trick here is that it appears to extend significantly forward of the bumper and overriders, and the front bar may be soft enough to give and flex to allow some additional crush space before anything would contact the grill or painted body shell. This could be just the ticket for fair warning to those park-by-ear specialists.

Thanks to David Walter <!- dwalter @ indiana.edu -> in Bloomington, Indiana, for these pictures. He bought this accessory through eBay. Unfortunately the mounting brackets are missing, so something will need to be fabricated for installation. It would be nice if someone else has one of these, or a picture of one installed, so we could have a better idea of the exact shape of the original mounting brackets.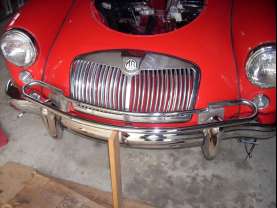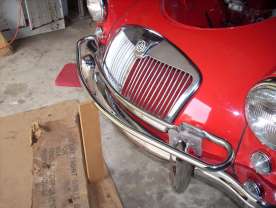 As shown here it is blocked up to approximately installed position, although it probably should be at least two inches farther forward. According to the instructions, there are two cast pieces that attach behind the over riders that would support the guard in place. It reads a lot like standard instructions for installing any badge bar, where the brackets would fit inside of the overriders just behind fog light brackets (if installed).


ASSEMBLY INSTRUCTIONS FOR M.G.A. GRILLE GUARD
The assembly for the Grille Guard consists of the following items:


(A) 1 Grille Guard
(B) 1 Badge Bar
(C) 2 Bumper Brackets
(D) 2 5/16-18-7/8 Bolts
(E) 2 Lock Washers
(F) 2 Nuts
(G) 2 Spacers

The Badge Bar (B) and Grille Guard (A) are already assembled in the carton. Mount the flat section of the cast Bumper Brackets (C) to the flat section of the guard with the inside curved surface facing in opposite direction to the main assembly, the bumper bracket being inside the assembly. Fasten with Nuts (F), Bolts (D) and Washers (E) provided. Do not overtighten.

Remove overrider. Leave overrider bolts in position. Mount bumper bracket on the overrider bolt with curved surface matching the contour of the bumper's face bar. Fit spacer over the bolt. Reassemble overrider and tighten bolts truing assembly as bolts are drawn up. When fitting Grille Guard, make sure slotted end faces downwards.