The MGA With An Attitude
RADIOS, PERIOD TYPE - AT-112_bmcd
B.M.C.D. Brand
On Feb 8, 2015, Mark Cox <!-mark_cox at sbcglobal.net-> in San Carlos, Califrnia, USA wrote:
"I have one of these little guys in my Deluxe. I guess it 'might' be original as they were from the early 60's, and my car is a very late production MKII, but it looks 'period' at least.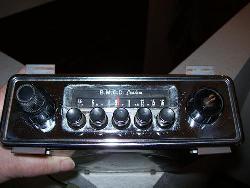 Ads from eBay: On left, believed original removed from a 1963 MGB. Below, model year not known.