The MGA With An Attitude
Original RADIO SPEAKER MOUNTING for MGA #1 - AT-112C1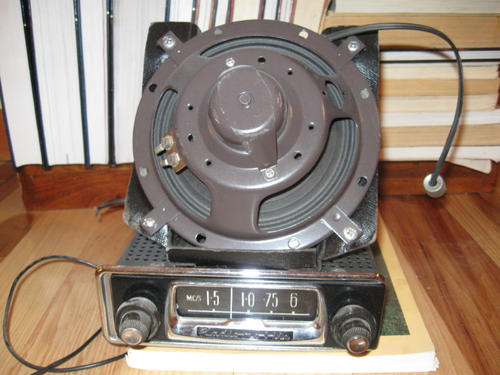 Original factory issue speaker mounting bracket with a 6-inch round speaker (rear view upright) sitting on a period European AM radio (front view). Even though the 6" speaker seems to fit on the bracket (with a little misalignment of the bracket), I believe it is incorrect, as it should be a 5"x8" oval speaker (as shown on the following pages). The European AM radio with number dial increasing right to left is same radio band as North American AM radio with number dial increasing left to right.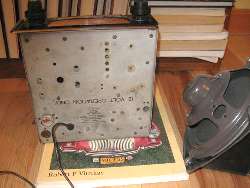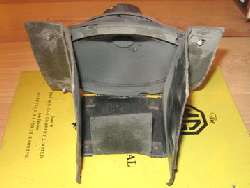 On left, radio bottom view with left side view of speaker sitting in correct orientation as installed in the car. (Click for larger pictures). The tilt angle allows for a rather large speaker to reside behind a not-so-tall dash panel. On right, front view of speaker assembled to pre-formed mounting board with four stamped steel Tinnerman fasteners and sheet metal screws. There are four more Timmerman fasteners on bottom panel slipped over edges of the fiberboard to accept sheet metal screws from underneath. Bottom panel is the mounting surface to be attached to under dash braces with cut-out at front to clear the heater control assembly. Side panels shield away light intrusion from instrument illumination lamps so the light does not flood into the speaker grill in the dash opening.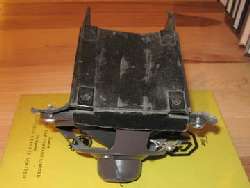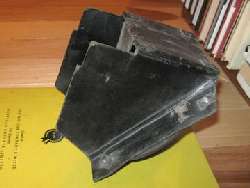 On left, speaker assembly rear view inverted (bottom up). On right, speaker assembly side view inverted. The entire speaker mount is formed (folded) in five surfaces from one flat sheet of fiberboard. Not only is this speaker mount original factory issue, but it is (almost) ingenious in design being cheap, light weight, and structurally sound in keeping with the inexpensive and light character of the MGA sports car.

Photos above were provided by Bob Briggs in New Hampshire, USA. If I can get dimensions of the fiberboard speaker mount I will post a drawing to make your own.