The MGA With An Attitude
SPEAKER MOUNT on Front Kick Panels - AT-112H
On 08 August 2011, A.J. Mail in New Hampshire, USA, wrote:
"I had my speakers on a panel that filled the spare tire hole. With the new top and tonneau, you could still hear them, but they became somewhat muffled.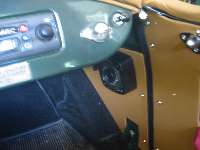 Here is the alternate plan. I made the "boxes" out of a 1" and a 3/4" PVC board glued together and then cut out on the band saw and a hole drilled for the speaker. Speaker is a Panasonic 3" dual cone - sadly they didn't come with grills, so I'll have to find those. This works out great, and is unobtrusive, and clean. It also leaves the door pockets free.