The MGA With An Attitude
The Elusive INDIVIDUAL BATTERY COVERS - AT-114
This item was a factory accessory, part number BHA 4140, some believe even a standard item on some MGA, apparently more likely for the Twin Cam cars or for any rally car. It is a pair of battery covers molded from Bakelite (phenol-fiber plastic). The ends with the holes overhang the sides of the batteries to accept the anchoring J-bolts. The long straight edges sit on top of the battery to bold it down. Angular recesses underneath at the ends allow space for passage of the battery cables while a large underside cavity allows space for the cable terminals, battery caps, and ample ventilation.

Although these were fairly common "back in the day", they are exceedingly rare today. They did present some inconvenience for battery servicing, which is probably why they so easily disappeared. Those of us who may travel regularly on gravel roads can appreciate the utility of these covers, considering that the MGA batteries are located near the ground and only inches from the rear tires. I know how much bother it is to clean dirt and gravel off the battery tops each time I need to check the fluid and clean the terminals.




This part is disclosed in Confidential Service Memorandum MG/249 dated 17 April 1959, covering 'MGA' and 'MGA Twin-Cam'. From the given wording it appears that this item is intended to be an optional accessory, not standard equipment.

Addendum, September 2010:
Reproduction part now available at: http://www.billtracyjaguar.com/lubaco.html.

Addendum, March 2013: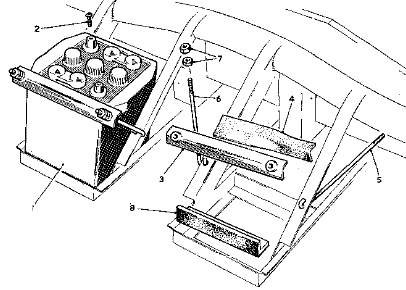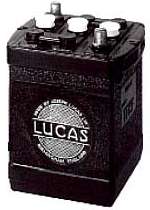 There should be two "L" shape rubber pads under each battery. The hold-down clamp is a thin steel angle secured with two J-bolts, placed long the back edge of the battery with a thin rubber packing piece, and the J-bolts at an angle from the sides of the carrier frame. The batteries sit with the top flanges and holes left and right, and the straight sides front and back.

After the hold-down clamp is in place, and the cables are all connected, the battery covers go on to cover the entire top of the battery and the posts and cable connectors inside. You can notch the sides of the covers to allow the cables to pass, keeping the notches as small as possible to be close fitting around the cables. The small J-bolts go through the holes in the battery top flanges from bottom up with the flange nuts on top. This allows you to remove the battery covers to do battery maintenance without disturbing the hold-down clamp. I have never installed these parts, but I would hope the little J-bolts stay put when you remove the cover.