The MGA With An Attitude
WIND WINGS and SUN VISORS for the MGA Roadster - AT-117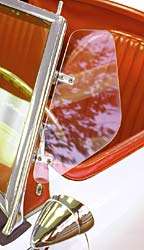 These simple wind wings are made from clear Plexiglas (or more scratch resistant Lexan if you're lucky). They are attached to the windscreen side posts with chrome plated hinges and set screws. The hinge pins are screws with acorn nuts which can be adjusted for swivel tension (friction). When folded inward they will fit inside of the standard side curtains. With side curtains removed the wings can be angled outward to deflect wind around the end of the windscreen.

They can do some good if you're driving against a head wind at an angle where the wind will come around the end of the windscreen to blow hard in your ear. With a strong wind in exactly the right direction, they don't do much good. For my personal experience, I decided the benefit was slightly outweighed by the bother, so I removed them.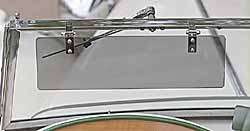 Matching sun visors, about the same size, are commonly tinted medium grey. All that I have seen are not tinted dark enough to do any good at all as visors in direct sunlight, so those have also been relegated to the "interesting bits bin". They may in fact do more good as wind deflectors if you are a tall driver. Otherwise you may be better off wearing good sun glasses and/or a ball cap with a visor.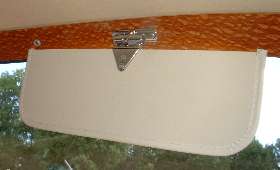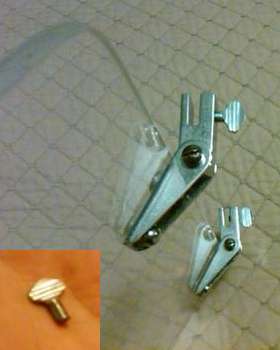 See the MGA Coupe section for information on sun visors for the Coupe - (above).

Photo at left is a neat idea provided by Freddy Jones in Raleigh, NC, USA. He installed thumb screws in place of the common set screws to make his wind wings easily removeable.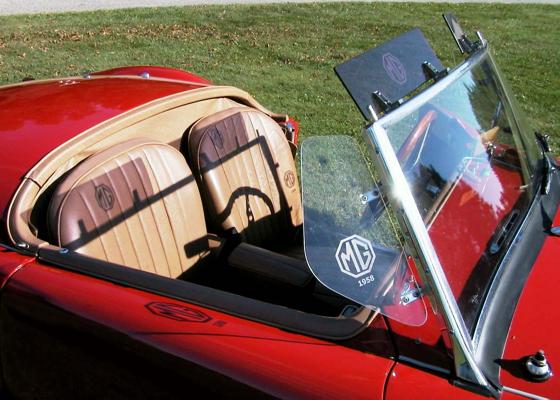 On 01 April 2011, Robert Allison <!-docbob48 at gmail.com> in Pennsylvania, USA wrote:
"Purchased mine from Moss and had the LOGO lasered on.
The sun just happen to catch them and project them on the car".