The MGA With An Attitude
WOOD RIM STEERING WHEEL, Make One Yourself - AT-119A
This article with photos is contributed by Mark Chapman.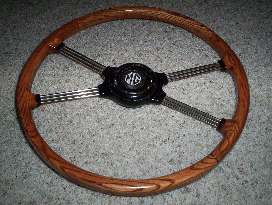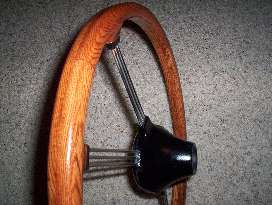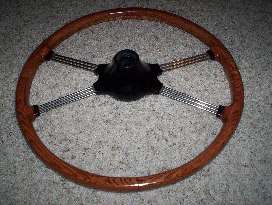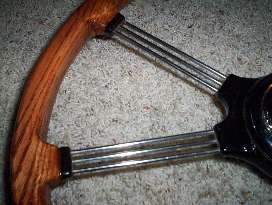 It took quite a bit of hand sanding and shaping to get these results. I first started off with the basic curve of the wheel with 4 pcs on the front and 4 pcs on the back staggered, I had to route a channel in the middle of the wood pcs. to accept the round original metal bar in the wheel, I used a bandsaw to cut the curve of the pcs. and used a round over bit in the router for the inside and outside edges. I clamped the pieces as I went. I ended up using wood filler at the joints. I sanded the whole thing, and then sanded some more, and then some more until I was happy with it. I put about 5 different coats of stain, oak, cherry, walnut and red mahogany. It has 3 coats of exterior marine grade polyurethane on it. The grip of it feels nice, and the wheel doesn't have any give like the original one.

Mark Chapman