The MGA With An Attitude
WOOD RIM STEERING WHEEL, Original Style - AT-119
This is the original style factory issue optional wood rim steering wheel for the MGA. Notice the vertical spoke is narrower than the others and has a shorter slot. Face of the wood rim is smooth (no mother of pearl dots). Back of the wood rim has finger grips. The style exhibits an air of lightness in keeping with the stark equipment level of the bare bones sports car.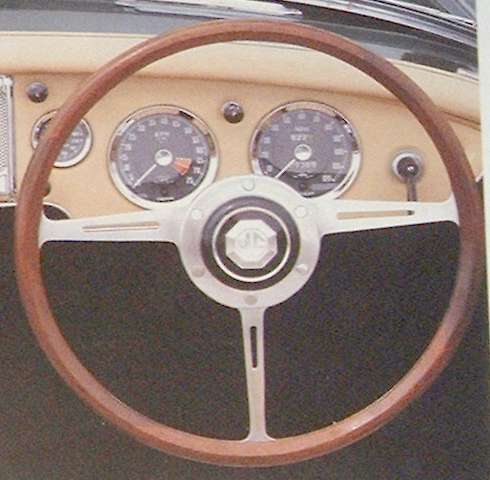 Clausager's book 'Original MGA' has the following details: Wood rim light alloy steering wheel supplied as an optional extra from Dec. 1957. Described as 'Italian Style', supplied by Bluemels (type SW/544 BMC part no. AHH5800-Y). The "'MGA' 1500 and 1600 Special Tuning" booklet describes it as "wood rim, light alloy, Italian", part number AHH5800.

Addendum May 2013: I am told that this wheel is 17-1/2 inches diameter (even though I think they were really 16-1/2" same as the standard banjo wheel), a full inch larger than the standard wire spoke steering wheel. It is a very nice piece of work, but the larger diameter may not suit everyone.

There will be any number of aftermarket accessory steering wheels of varying styles, but this was the only optional steering wheel offered by the factory during production of the MGA.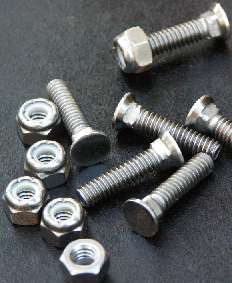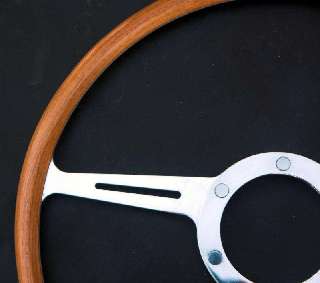 The original wood rim wheel is attached to the hub with 1/4 inch countersunk square neck bolts. The 3/16 inch thick center ring in front contains square punched and counter sunk holes to provide the flush fit and prevent rotation of the bolts.

Original wood rim steering wheels are extremely rare in good condition. Excellent reproduction parts are available from:
www.pbase.com/mdlempert/mga2
Mike Lempert, Lempert Wheels
2124 Shell Ring Circle
Mount Pleasant, SC 29466
Phone 843 856 7542
www.pbase.com/mdlempert/wheels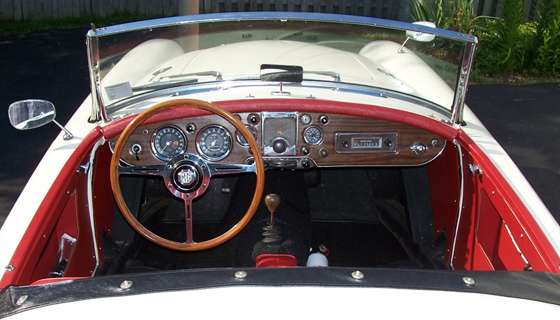 Find more information in the Steering section