The MGA With An Attitude
Steering Wheel, WOOD RIM Ooptional Style - SR-105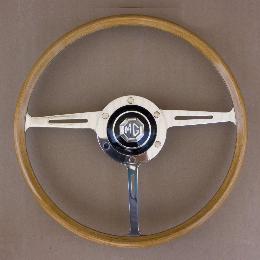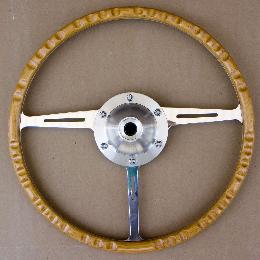 MGA Wood Rim Replica

Made by Mike Lempert in South Carolina, USA.
Hand made replicas, originals, and restorations.
Lempert Wheels -- Special Replica and Original Wheels
"I make every wheel to order, and each of them gets personalized service"

The wheel pictured above is original factory option style. A wide variety of wood rim steering wheels is available through most of the traditional parts suppliers.

Find more information in the Accessories section

---
In early 2011 there has been a lot of discussion about this particular design of wood rim steering wheel, how to spot an original or a repro, and what other brand or style of wood rim wheel might be an appropriate period accessory for MGA. Mark Hester (of the MGA Twin Cam Enthusiasts group) has spotted photo records of at least 30 MGA Twin Cam cars with this style steering wheel. Some of these will certainly be more recent reproductions, Some may be early aftermarket or dealer installed original source parts, qualifying as original. Some (perhaps a minority) would have been factory installed with original delivery.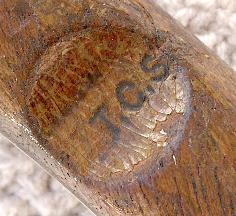 First date of offer of this optional part was December 1957 predating introduction of the Twin Cam model (April 1958). Originally promoted as a competition part, apparently it appeared most often on Twin Cam cars during that production period. Subsequently it was sometimes referred to as the "Twin Cam Special" steering wheel, although it was available to anyone who would order it on any model MGA. There is one known case of the lettering "T.C.S." being stamped in one of the finger grips on the back side of the wood rim, although it is not absolutely certain what those letters originally meant. Original untouched wheels (not repaired or refinished) are so rare that this mark be may obliterated from other original wheels.

---
Following are notes from Mike Lempert, the guy who has been restoring originals and building replicas for so long.

These Bluemel's wood rimmed wheels were made between the years 1958-1962 to the best of my knowledge. They started as mahogany segmented construction and later changed to beech bent spiral. The time of the change I do not know, but I have observed that the great majority of original wheels out there are mahogany, so one might guess that the change was made closer toward the end of production than the beginning.

Beyond the information provided by the parts lists, there is no documentation that I am aware of. To make things worse, very few people are still around today that had anything to do with the manufacture of those wheels. So the truth is, very, very few people really know anything about the old steering wheels. I have come to consider myself somewhat as a steering wheel forensic expert, but I'll admit my knowledge is far from complete. I am uniquely qualified to come to these assumptions because of the work that I do.

Bluemel's was not a wood rim manufacturer, so they either had someone in house to make the rims, or more likely outsourced to a woodworker. A woodworker would make the rim in the segmented style because the bent spiral method was a specialty and very few people knew how to do it. At some point they likely found it easier and cheaper to go to one of the rim makers of the day, and in this case chose Coventry Timber Bending. Coventry also applied the rims to the wheels. Further circumstantial evidence of Coventry Timber Bending work can be found on the rear of the beech rims; the indent patterns are misaligned on virtually every wheel out of the Coventry shop. This unfortunate characteristic is a sign of originality.