The MGA With An Attitude
EXHAUST DEFLECTOR with MG Logo - AT-120
Here's a cute period accessory submitted by Jules Desbiens of Quebec, Canada. The exhaust deflector appears to be polished cast aluminim with a chrome plated attachment band. I have seen them on eBay on very rare occasion.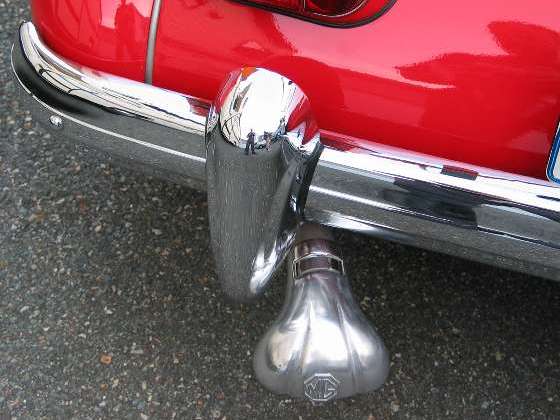 Form, fit and function is obvious from the pictures. Appearance is a matter of personal taste, just a bit gaudy to suit me, but I've been looking for one for some time anyway as form follows function. I am assured that it cuts down noise in the cockpit substantially, especially when the rag top is down, by deflecting the noise downward to the ground. I am sure that it would make a HUGE noise reduction when I'm towing my luggage trailed at expressway speed, when there is a LOUD echo of exhaust from the flat front face of the trailer. For appearance and cost, I think I'd be as happy with a simple (and shorter) chrome plated turned down pipe tip, although the spread end shown here might be a bit more effective in fanning out the flow to reduce noise a bit more.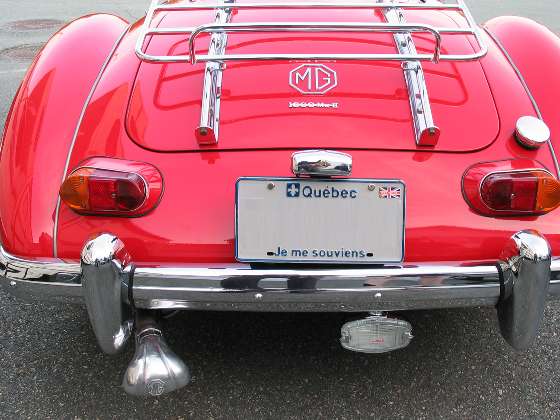 Addendum September 6, 2012:
Apparently they were made in Birmingham in the UK. The badge is a separate piece attached with two posts like a grille badge, and the names can vary. Occasionally you may see one that is missing the badge and may have two rivets filling the holes.