The MGA With An Attitude
DOOR SCUFF PLATES - AT-123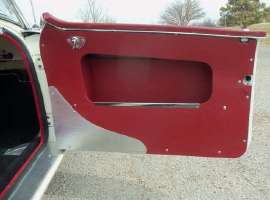 These periiod accessory scuff plates are sometimes installed on the inside of the door at lower front corner, intended to improve appearance, reduce scuffing of the inner door panel, and possibly to hide prior panel damage. These could have been common dealer installed accessory parts, or were available from several aftermarket parts suppliers such as Amco and MG Mitten. They are still available today as new aftermarket parts.

The door scuff plates are commonly made of brushed or polished aluminum, but might also have been chrome plated steel (on rare occasion). Aluminum plates may have ridges that serve to comaflage scuffs and scratch marks. Some more rare steel plates may have smooth chrome finish. They are most often held in place by three or four grommet head trim screws positioned near the corners of the plate. It is common practice to procure these pieces from the same source as supplies your frame rail covers and body threshold plates, in order to have a matching set for finish and appearance.



Click for full scale printable template.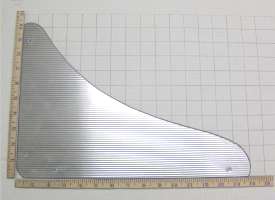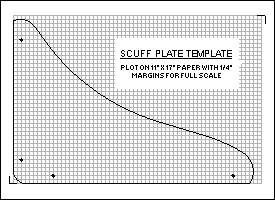 This particular commercial product is .045 inch thick aluminum with ribbed finish on both sides (reversible). Drill holes 7/32 inch diameter through the scuff plate. Align plate on door. Drill #39 (0.099 inch diameter) through door shell. Secure with #6x3/4 oval head sheet metal headscrews and finishing washers.

For a little slicker appearance you can countersink the holes 82 degrees to 17/64 inch diameter and install the oval head screws with no washers (but for this the screws must be located very nearly concentric).