The MGA With An Attitude
Installing the MGA GRILLE, 2 - BD-102A
Following from the prior page, here is a comparison of some of the currently available grille parts.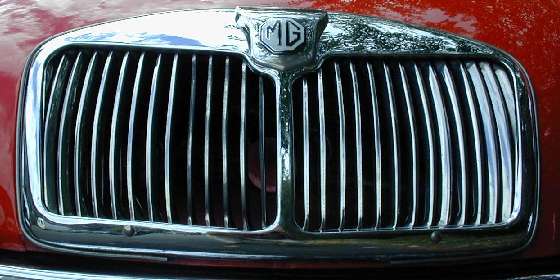 Aftermarket grille with large corner radius top and bottom (and incomplete piping).
Thanks to Walter Tange for the picture.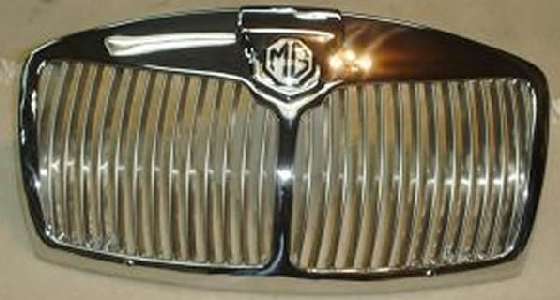 Better reproduction grille from Jorge Cervera.
Note the more square outer corners, and slats with correct curvature and angle.
Still missing brazed reinforcement brackets at upper corner attachment points.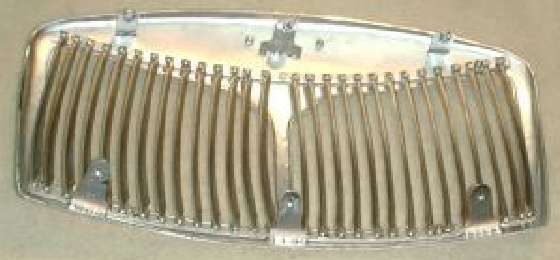 Addendum April 18 2005:

From Mark Hester, Perth, Australia (or London UK):
>I tried purchasing a grille outer shell from Moss the other week and it did not fit my bars, so much so that it bent the locating pegs when I tightened up the badge and damaged the face. So I returned it and got my money back. I then purchased a new full Grille. When I went to fit it on the weekend it did not seem to fit and the gap between the grille and the bumper was about an 1 1/2 inches. I admit my car seems to have had a front end at some stage, but there was no way this grille was going in the hole without damaging it.
>
>Judging from the box this grille came from Tasker Metal Products and seems to have a Moss US part number of 990-061 Grille Assy, Plastic nose piece. They didn't tell me that part of it was plastic either !!!

From Frank Nocera in Florida:
>Jorge Cervera is a manufacturer of reproduction grilles in San Diego, California. He sells them on eBay Motors. I purchased one two years ago and have been quite pleased with it. It is well made out of heavy gauge steel, nicely chrome plated, and, best of all, it fits perfectly. It's not cheap at about U.S. $360, but you get what you pay for.

Contact information for Jorge Cervera: <!-A href="mailto:JorgeCervera@JaguarByJorge.com"->JorgeCervera@JaguarByJorge.com
Phone & Fax: (562) 867-0576 - Direct: (619 )948-6972
Web site: <!-A href="http://www.JaguarByJorge.com" target=new->www.JaguarByJorge.com
eBay: http://search.ebay.com/_W0QQsassZangelheartpancho

From G T Foster, New York, USA:
>My experience with the Moss replacement grille was that its necessary to reform the mounting tabs a significant amount (a.k.a. bend the crap out of them) to get the grille to fit the opening. Might even be necessary to remove and reposition them. I had an original, but damaged, grille to compare against which helped a lot. Eventually I will get the original grille restored.

---
Addendum April 2006:

Moss Motors has just finished re-tooling to produce original equipment style MGA grille with all original factory specifications. Tooling was produced using original factory drawings and referencing a number of original equipment grilles. The new grille surround and false nose are made of brass with edges trimmed after forming, triple chrome plate and polish. Grille slats are stainless steel as original, properly riveted to plated steel frame. All brackets are original style and in original location. These new grilles test fit on real cars exactly the same as original grilles with a minimum of fiddling. Quality is second to none, and the price is right. If you want better chrome you would have to have one custom plated.

Only the 1500/1600 flat style grille is available at this time. The 1600-MK-II recessed style grille slats and recessed chrome panel are in the works to be produced soon. The front chrome surround panel fits both types.

View and download Moss Motors Grille Installation Sheet - (223 KB pdf file).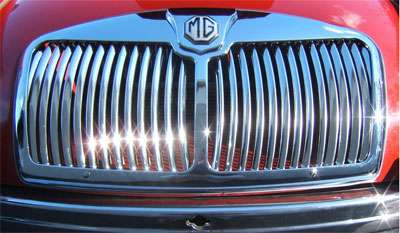 Moss Motors OEM style reproduction grille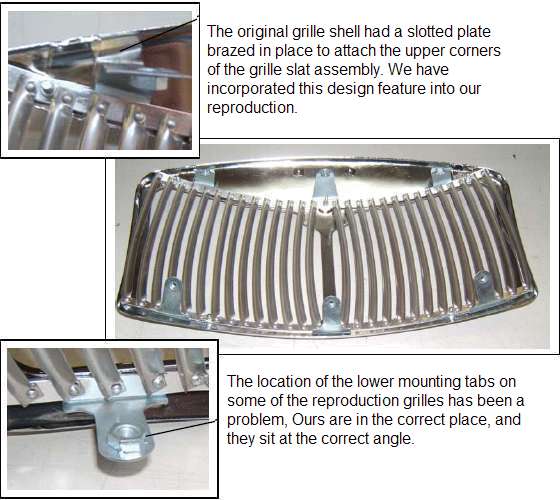 ---
Addendum July 2008:
After a recent body restoration and repaint I installed one of the new Moss grilles. I am fairly well impressed with the quality of the part, and the plating is certainly nice enough for a street car. I found this one to have more front to back curvature at the sides, leaving a gap half way up the sides that would not hold the piping in place. I think this new grille is very close to the original configuration. It is likely that the one I bought in the mid 80's was a little too flat, and I had remodeled the body nose to fit that one. I finally stretched the body nose forward a bit on the sides of the opening to match the new grille, and all is well with the world. The attachment nuts had 6mm threads, and Moss included some matching screws and flat washers. This should be changed to correct 1/4-28 UNF threads for future production. The 6mm flat washers supplied were so small as to fall through the holes on the body, but these are easily replaced with wider 1/4 inch flat washers.

---
Addendum May 2010:
On 5/19/2010, Michael Weis <!-weism at shaw.ca-> in Summerland, British Columbia, Canada wrote:
"I discovered a trick that should save you those six packs of beer when installing grill piping. Brush a thin bead of automotive contact cement onto the circumference of the thin EDGE of the grill. Using a small jewelers screwdriver wipe a small bead of cement into the recess between the two pipes. Let the glue set, then with the grille face down on the bench start with the mid point of the piping and begin gluing at the top center of the grille cutting the piping at the bottom center. If there is any cement showing after installation it is easily removed with a wad of dried contact cement".

---
Addendum October 2012:
Original grille slats are stainless steel. They can be polished to a fairly high luster. If they are damaged they can be straightened, dents and scratches can be removed, filed and polished to restored them to original condition. The original slats were also polished smooth on the edges so they don't cut your fingers when you are cleaning the grille. The leading edge of the original slats is turned over about 110 degrees so it is nearly in line with the center axis of the car. Many repro grilles have this bend at 90 degrees resulting in different appearance, smaller gap between the slats, and more obstructed air flow (and sharp edges that will cut your fingers).

Below is a picture of the rear side of an original grille insert showing the riveted assembly, shape of the (smooth) slats, and substantial air flow space between the slats. (Thanks to P. M. Dean in Fife, UK for the picture).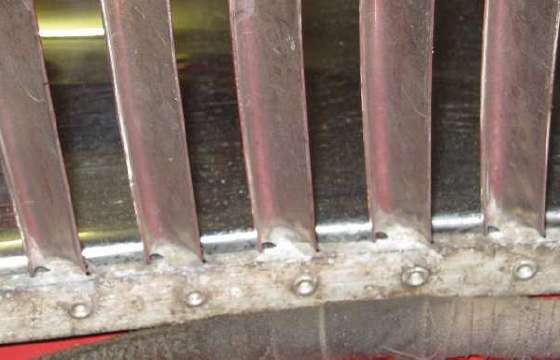 Starting with a flat blank for the slat, then turning the leading edge over makes the slat narrower. Turning it back to 110 degrees (as original) makes it narrower than when turned back only 90 degrees. This may be part of the difference in better air flow for original parts and more obstructive air flow for some repro parts. I have also noticed that original grill slats are much stronger (stiffer) than most of the repro parts. This must be more than just the difference in bend angle, so I believe original slats may be thicker material than most of the repro parts.