>"The issue of blade touching glass properly for its entire travel, and then flipping over for the return trip, requires a mention. Angling the wiper to the arm alters the perpendicularity of the blade to the glass, since we are in 3 dimensional space. This means that the wiper arm shaft needs a slight CW rotational tweak, in order to prevent the blade being driven, edge-first across the windscreen (with attendant chatter) and never toggling over. It is not hard to do, and with a couple of smooth-jawed pliers, there were no marks in the SS arm, and the twist is not really too noticeable. Point is, that the installation looks good and works very well.

The body and arm are relatively dull SS, as delivered, but buff up well with a Dremel mop and rouge.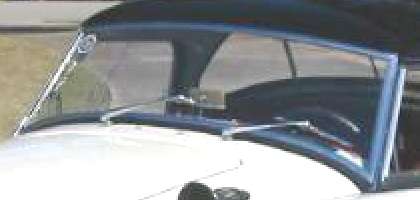 The Trico arm is listed here:
http://www.tricoproducts.com/catalogs/adjustablewiperarms51ser.pdf
Specify model 51-062 with 1/2 inch knurled shaft and wrist action end for the MG.