The MGA With An Attitude
Installing FENDER PIPING #3 -- BD-115B
A lot of us have been plagued by silver grey plastic fender piping that turns blotchy black in a couple of years time. It is exceedingly difficult to clean up, and a royal pain for something that should not need such maintenance. So far no one has identified a source for good plastic piping, so here is an idea for a alternate material.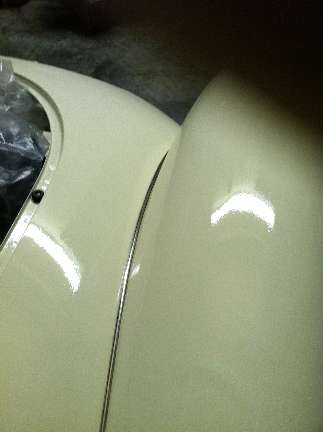 On 6/16/2013, Steve Miller <!-smillersc5 at aol.com-> wrote:


"I went to the NAMGAR GT this past weekend, and found one MGA owner to have used a Stainless Steel piping that looked really good. I ordered it from Dennis Carpenter (mostly Ford parts). This stuff is a stainless bead of just over 1/8 inch or so with a vinyl strip with nylon cloth. I just installed the first front fender using it and have to say that I really like it. Not original, but at least the same type color as the silver. The nice thing about this piping material, is that it maintains a bit of rigidity as you bolt it in, so is fairly straight in the end. Also easy to keep tight as you install. I used a piece of soft wood that I put a groove in, then cut it down to fit in the tight angle of the front fender. I think it is worth consideration in the rebuild process. There is a real tight bend at the rear of the rear fender that seems to cause issues. I am thinking of constructing a tubing bender that will allow the vinyl to feed into the bender (would probably have to be held inside a vise to keep it at the right dimension during bending).


"The SS bead is round. Nice look, not too dissimilar to the original silver piping. I am going to polish my paint job, and you may see some magic marker lines in the piping that will go with polish. The soft wood press tool I made works well to keep the piping tight against the body...but other than that, it seems to fill in an work well".