The MGA With An Attitude
PULL ROD, Front, for Boot Lock Release, MGA -- BD-126
On Nov 23, 2014, Peter Ballemans <!-peterballemans at gmail.com-> in Kaatsheuvel, Noord Brabant, Netherlands wrote:
"My original Boot Lid Release Rod (the long one with the bent end) got lost. As this seems to be an easy part to be reproduced in a short time, I wonder if someone has a sketch of the dimensions".

Nick Kopernik <!-copernicus at optimum.net-> in Redding, CT, USA wrote:
"I removed the boot release rod and took some photos. The rod is 36.5 inches long and the diameter of the rod is 5/32 of an inch. The 90 degree bend in the rod faces down in the boot, where it attaches with a cotter pin to the linkage for the latch".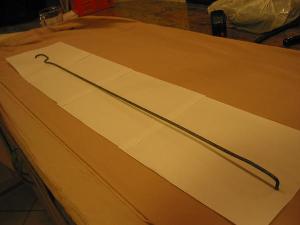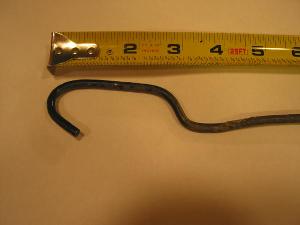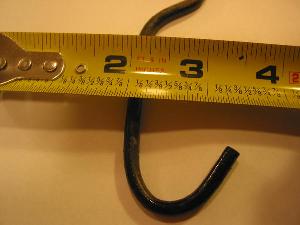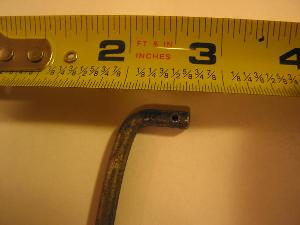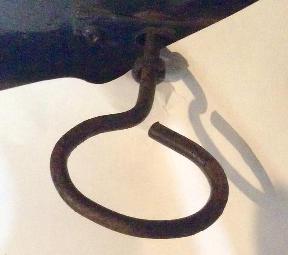 Bruce Kosbab <!-bfkcars at aol.com-> in Marietta, Georgia, USA wrote:
"Attached is a view of my boot lid pull loop. I think it is still in its original shape and measures about 4 cm front to rear and 5 cm left to right, outside diameter.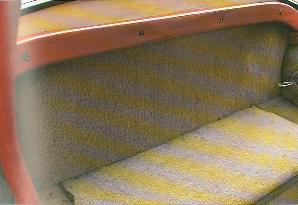 Nick Kopernik wrote:
"I looked in CLAUSAGERS and scanned the better of two photos of the pull release). The handle does appear to be oblong".

Nick Kopernik wrote:
"I did a bit of adjustment on my release rod; new overall length is 34 1/4 inches. May not be the exact shape of the original handle, but close enough for me. Fits perfectly and enough room for the fingers"!