The MGA With An Attitude
TAIL LAMP LOCATION, 1500-1600 -- BD-140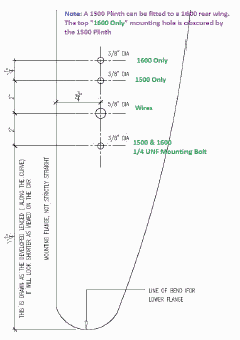 Occasionally we may need to convert a 1500 rear fender to accept the 1600 type rear lamp plinth, or convert a 1600-MK-II or replacement fender to accept the 1500 or 1600 plinth. The various fenders are all the same except for location of holes for mounting the plinths.

This illustration shows the locations of the required holes. For a fender that may contain all of these holes, the 1500 type plinth will cover the extra hole, so no need to weld up or plug the extra hole.

(Click for larger image).