The MGA With An Attitude
BODY REMOVAL or INSTALLATION As An Assembly -- BD-151
On May 5, 2010, Mike Hirsch <!-Mikro219 at sbcglobal.net-> in Dayton, Ohio, wrote:
"After bracing the body and before trying to pull the body off, just what all needs to be disconnected"?

See RT-103A - Body Weight and BOLTS Securing Body to Frame (in the Restoration section) for the key to detaching the body from the frame (31 screws). Bolts most often overlooked are underneath aft of doors.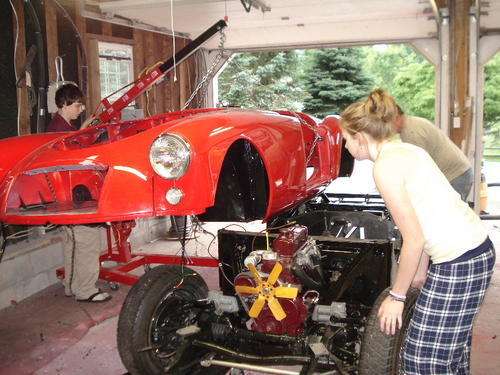 It is possible to remove body from frame without disassembling much of the body. It was after all originally installed as a complete assembly. You would have to remove front and rear bumpers and the rear bumper brackets. I don't know if the front valance would have to be removed or not. I suspect not, if you can lift the rear of the body high enough to let it slide forward. After removing fenders, doors, windscreen and anything else that can be removed, the main center body shell weldment weighs about 200 pounds (depending on how much paint is on it). Two normal guys in decent health can lift it off and set it on saw horses. Done that a few times myself, never using a hoist. If you have in mind to lift and manipulate the complete body assembly, then you need four guys or a hoist.

Whether you remove fenders and doors or not, there are more
things you have to remove or disconnect to remove the body:

Radiator
Font and rear bumpers
Rear bumper brackets
Fuel filler neck and fuel tank
Front valance (maybe for convenience)
Steering column
Master cylinder
Hydraulic lines on heater shelf to 5-way and clutch slave
Fuel pipe from heater shelf.
Clutch and brake pedal assembly and brackets
Signal lines (2) for safety gauge
Drive cables for speedo and tach
Heater hoses
Control cables for starter and choke
Front interior kick panels (for access to inside body to frame screws)
Oil cooler hoses/pipes (if equipped)
Carpeting on body flanges over side frame rails
Front splash panels (aft of front wheels)
Three dozen screws and bolts holding body on frame
Disconnect brown wire from starter switch.
Disconnect wiring side harness at both ends.
Remove ties holding rear harness on frame cross member.

Things that could stay attached to the body:

Doors and fenders
Body lower trim strips (bottom of rocker panels)
Rear splash panels (2 early or 4 late)
Engine bonnet, boot lid
Grille and (3) 4-inch air hoses
Convertible top frame, battery cover
All exterior lighting fixtures
Front valance (maybe)
Oil cooler (less pipes, if equipped)
Windshield assembly complete
Screen wipers and drive assembly, complete,
(but remove one bolt in S/W motor to frame bracket).
Screen washers (if equipped) Heater and defroster parts
Dash panel assembly with all instruments and switches and wiring,
(except maybe remove the safety gauge with signal lines).
Radio and antenna (if equipped)
High mounted dipper switch

Things that can remain attached to the chassis:

Throttle pedal assembly
Seats, floor boards, tunnel, hand brake
Low mounted dipper switch, 1600 LHD type (disconnect wires)
All suspension & brake pipes after 5-way
Complete drive train
Exhaust system
Side harness
Battery cables
Horns (original on front frame extension)