The MGA With An Attitude
GRILL Screen Mesh Modification -- BD-208
This little modification is brought to you by Patrick Mulholland <!-pmulholland at dodo.com.au-> in Australia.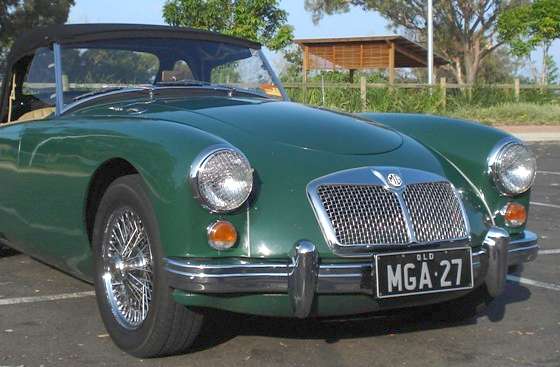 Patrick writes: "I must admit that the standard grille is not attractive to me and that (like many of my friends), I have cut myself accidentally on those grille slats several times over the last 20+ years while washing /polishing or working close by the grille. As they are very sharp, the cuts needed several stitches on one occasion when my forefinger became stuck between two slats. After recently viewing a mate's A that had stainless steel wire in place of the slats, I was instantly hooked. He promised slightly improved cooling at highway speeds as a result of the improved airflow, but I was more interested in how much better it looked from the front. It looked more of a brute than the standard A".

A note to Patrick here. If you cut your finger on the grille, it is not and original part. The factory original grille has rolled over edges on the slats for double thickness, more strength, and smooth edges that will not cut your finger. I think that every aftermarket replacement grille ever produced has the single layer steel slats with sharp edges.

For more information from Patrick's closed web site www.mga1600.com.au/new_grille.php
"I had an old grille to model variants on, so proceeded to disassemble and try out a few options (eg: 'star'-shaped woven mesh vs 'box'-shaped mesh etc). See the slats removed from Kermit below, noting the two horizontal mounting brackets. I removed these brackets from an old grille and used them on Kermit's grille base to hold the stainless 1/2 inch woven wire grille. This way, I can store Kermit's old set of teeth and the operation is able to be reversed in the future if necessary. I hand-formed the mesh into the shape of the grille base, bolted it on and behold Kermit with new dentures (below)! I think it looks 'sportier' and overall more attractive than the standard slats.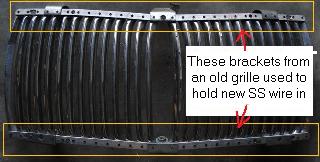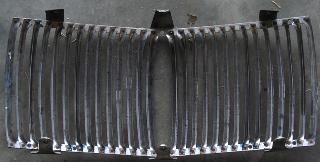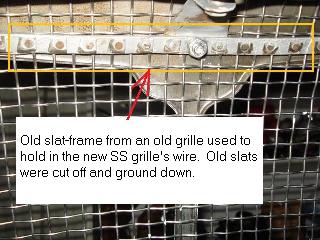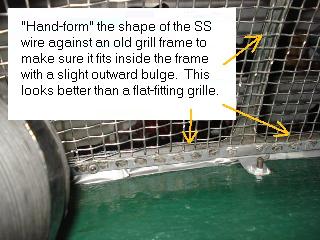 More photos of mesh grille. Click for larger images.