The MGA With An Attitude
NUMBER PLATE MOUNTING, Rear -- BP-105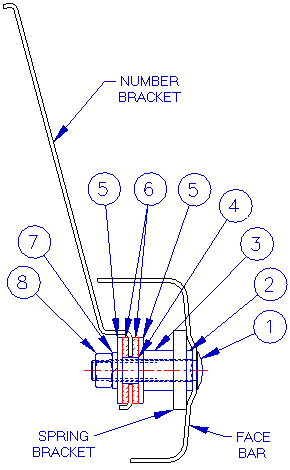 | | | |
| --- | --- | --- |
| Item | Qty | Description |
| 1 | 2 | Bolt, Coach Head, 3/8-24-UNF x 2 |
| 2 | 2 | Washer, 3/8 x 3/4 x 0.12 Th. |
| 3 | 2 | Tube Spacer, 3/8 x 3/4 x 0.56 L |
| 4 | 2 | Tube Spacer, 3/8 x 1/2 x 0.31 L |
| 5 | 4 | Washer, Flat 3/8 x 1 x 0.09 Th |
| 6 | 4 | Washer, Rubber 1/2 x 1 x 0.125 Th. |
| 7 | 2 | Lock Washer, Medium Spring, 3/8 |
| 8 | 2 | Hex Nut, 3/8-24-UNF |
This article is to clarify mounting of the rear number plate bracket on the MGA. The small/thick washer (Item 2) avoids distortion of the center of the face bar. The thick tube spacer (Item 3) holds the plate forward so it does not touch the top edge of the face bar (and it will stand up at the intended angle). The rubber washers (Item 6) are used to dampen vibration of the number bracket to avoid stress cracks near the mounting bolts (and allowing use of thinner metal). The thin tube spacer (Item 4) allows tightening of the bolt without excessively crushing the rubber washers.

People often make the mistake of bolting the number bracket directly against the spring bracket. This forces the number bracket into intimate contact with top edge of the face bar, and also forces the number bracket to lean farther forward than intended. Without the rubber washers the number bracket can also develop stress cracks near the mounting bolts. If you hear some vibration and/or squeaking going on near the rear bumper, it is likely that the number bracket is cracked.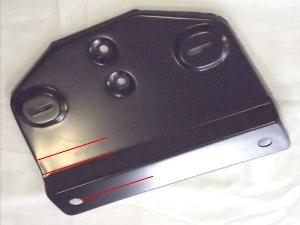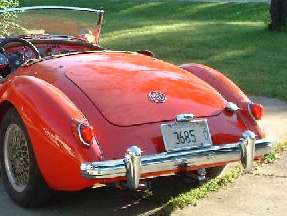 Red lines indicate areas where you might find cracks, near top edge of face bar, near one of the tight bends or near the bolt holes.