The MGA With An Attitude
NUMBER PLATE MOUNTING, Front -- BP-106
For the MGA, front number plate mounting hardware is easy by the book, just a pair of stock handed angle brackets and a backing plate for the long narrow European style.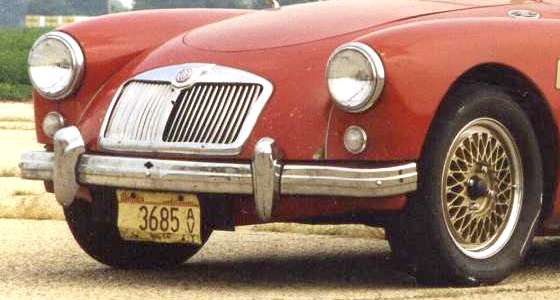 Trouble is, if you have North American size license plates the bottom edge of the plate hangs too close to the ground. After I ran it past a parking curb the plate was bent under at the bottom and had to be pulled out, more than once (photo above). After a while the plate gained a small crack and was at some risk of breaking all the way across. So I gave up and folded it under 180 degrees up behind the backing plate. Some years later the DMV issued new plates with a graphic design change (and more reflective surface). From initial installation I folded it under in the same manner (photo below). During more than 15 years and about 200,000 miles like this all over North America I have never had a word from cops to the contrary. The only thing across the bottom is "Land Of Lincoln", and a lot of vanity frames will cover that area.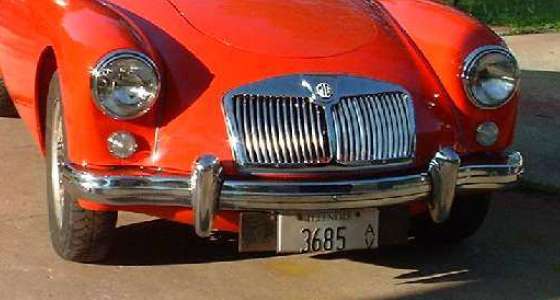 There are some other ideas for mounting the front number plate a bit higher. I don't like the idea of covering the hole in the bumper for the starting handle, so I think the ideal location would put the top of the plate (with a decorative frame if you like) just below that hole. Andy Bounsall in Ottawa, Ontario, Canada has already developed this solution as follows.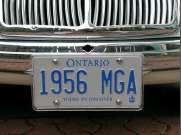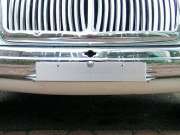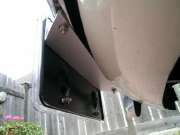 This is a piece of aluminum sheet with one bend and four holes, and you don't have to drill holes in the bumper, as it bolts up to the original bracket holes. The backing plate used is the same piece as North American rear tag backing plate.

I have one further suggestion. Cut the rear edge of the new bracket to follow the edge of the curved bumper so as to keep the bracket farther away from the valance panel in case of mild impact. I also like to use captive nuts for such applications. McMaster Carr has them for around $10 for 25 pieces. Just make a square hole in the panel and snap the cage hut into place, and never fiddle with lock washers and nuts again.