The MGA With An Attitude
Technical Data Book for MGA Twin Cam
"MGA Twin Cam Engineering Technical Data"
This is a rare copy of a rare book, and here is a printable copy in PDF format. It is split into eighteen separate files so folks stuck on slow data links don't have to download it all in one bite. You will need PDF reader program such as the tiny Foxit Reader or the bloated Adobe Reader to view the PDF files.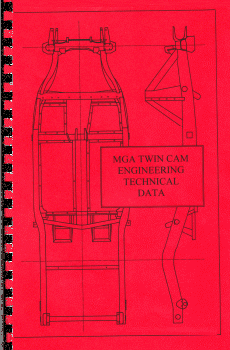 SECTION
   Introduction              4p (0.5-MB)
   General Data             10p (1.4-MB)
A: Body and Chassis Frame    4p (0.4-MB)
B: Engine                   21p (4.9-MB)
C: Fuel System               7p (0.7-MB)
D: Ignition System           4p (1.6-MB)
E: Cooling System            4p (1.7-MB)
F: Flywheel, Clutch, Gearbox 6p (0.7-MB)
G: Exhaust System            2p (0.2-MB)
H: Propeller Shaft           2p (0.6-MB)
I: Final Drive               3p (1.1-MB)
J: Rear Suspension           2p (0.6-MB)
K: Steering                  3p (0.5-MB)
L: Front Suspension          3p (1.4-MB)
M: Suspension Dampers        2p (0.2-MB)
N: Brakes                    3p (1.8-MB)
O: Electrical System         7p (0.8-MB)
P: Wheels and Tyres          2p (1.6-MB)
Total all PDF files = 20.1-MB, 100 pages including blank sheets and covers. When printed double sided, each section begins on a right hand page. Sectons with odd number of pages end with a blank page. The original book format was a loose leaf binder with single sided pages punched at the top for easy update of one page at at time. The repro copy pictured here is single sided, 90 pages, spiral bound on the left.


This is "THE" Technical Data Book. It was used by the MG factory to lay down the specification of the car. Each time a change was made the applicable page was altered, and a changed copy was sent to all important people at the factory to update their book. The distribution list at the front of the book shows who held copies, J Thornley, S Enever, A Hounslow, A Issigonis, and 25 others. It has loads of technical data not available anywhere else.