The MGA With An Attitude
LUCAS TECHNICAL SERVICE
"Overseas Technical Correspondence Course"
This is a rare copy of a rare book, and here is a printable copy in PDF format. It is split into ten files so folks stuck on slow data links don't have to download it all in one bite. You will need a PDF reader program such as Foxit Reader or Adobe Reader to view the PDF files.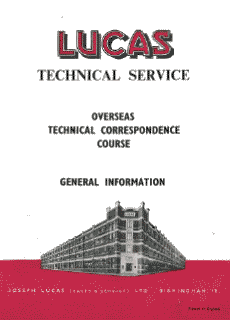 SECTION
Intro and Contents             5p (0.3-MB)
Session 1 - Battery           29p (1.5-MB)
Session 2 - Starting Motors   33p (1.7-MB)
Session 3 - Coil Ignition     34p (2.1-MB)
Session 4 - Generators        21p (1.2-MB)
Session 5 - Generator Control 32p (2.0-MB)
Session 6 - Wiring            19p (1.1-MB)
Session 7 - Lighting          26p (1.7-MB)
Session 8 - Wipers Horns Etc  60p (3.4-MB)
Session 9 - Overdrive         17p (1.3-MB)
Total all PDF files = 18.9-MB, 275 pages. When printed double sided, each section begins on a right hand page. Some blank pages are missing from the sequence. The original book format was a loose leaf binder with single sided pages punched on the side for a 4-ring binder.

This document details a correspondence course intended to be used in training full time dealer service personel who would be servicing Lucas electrical euipment.