The MGA With An Attitude
BOOKS FOR YOUR MGA - page 4
MORE CATALOGS & PARTS LISTS:

"Everything Automotive" catalog from J. C. Whitney
LaSalle, IL www.jcwhitney.com


Okay, so it's not even British parts, and MGA is seldom mentioned in it. But you might be surprised what you can get if you just ask. You can still get ADDCO sway bar kits for the MGA, even though they're not in the catalog. Lots of generic accessories, affordable tools (if you can read between the lines about quality). One little note for a free catalog, and you're on their mailing list for years.


"Lucas Equipment For 1948-1962 Cars" by Joseph Lucas North America, Inc. - 68-page 5.6-MB pdf file
Part numbers for Lucas electrical equipment cataloged by equipemt type, make, model and year of vehicle.


Not just for MGA, as it covers all vehicles with Lucas equipment, but it may be useful for finding part numbers for small component parts or rare out of production parts.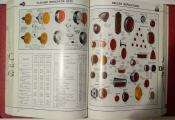 "Lucas Master Parts Catalogue" by Lucas Aftermarket Operations, hundreds of pages.


Lucas Car & Commercial Vehicles 1945–1960


Equipment & Spare Parts Master Catalogue.
Complete electrical specification given for every make and model - over 90 makes and 600 models listed. This is followed by chapters on each type of equipment, i.e. starters, distributors, switches, lighting, etc. with pictured and component breakdown. Also supercession list at back.


This is a bit of overkill for the average MGA owner, as it covers all vehicles with Lucas equipment, but it may be useful for finding part numbers for small component parts or rare out of production parts. It was printed in successive issues over time, covering various ranges of model years. These days it is more useful as a technical reference manual. It has most recently been listed on eBay in CD form for (1939-1954) or (1945–1960) and possibly other issues.


"MGA Parts Catalog" by Clarke Spares & Restorations
Doylestown, PA www.clarkespares.com


Specialty producer of over 400 reproduction spares. Not everything for your MGA, but much of everything you may not be able to find elsewhere. Todd Clarke makes these parts for use in his own restoration business, so he insists on making them right. When you need MGA windscreen assembly brackets that actually fit, or complete side curtains built to original specs, or original type screws and fastener kits, or original type door seals that actually allow you to close the door, then this is the place. If you are preparing your MGA for a concours show, you need this catalog. Download a PDF copy at www.clarkespares.com/CSR_CATALOGUE-2011.pdf.



"MGA Parts Catalog" by Limora (Europe)
www.limora.com
MGA specific catalog with parts, tools and accessories. Perhaps everything you might ever want in your MGA garage. Visit the web site for a downloadable PDF copy, 432 pages (40-MB), or use their on-line catalog.

"MGA Parts Catalog" by Scarborough Faire (also "NOS Locators")
Pawtucket, RI www.scarboroughfaire.4mg.com
I don't have a catalog to show you, because I threw it out years ago after a very bad business experience with them. I have no advice one way or the other these days, as I have not had any business contact with them for many years. They are a specialist in MGA parts, and they might actually have some satisfied customers somewhere, so enter at your own discretion. I would advise you to do a web search for comments.



"MGA Parts Catalog" by Victoria British Ltd
Lenexa, KS www.VictoriaBritish.com


One of the larger suppliers for MGA parts. Free catalog, free phone call, middle America location. Not everything for a full restoration, but most of the parts you would need to keep your car on the road. Large inventory, quick shipping, no tech assistance. Being price competitive, some restoration parts may be spec'd for price/value vs. originality, and occasional substitutions. At least get the free catalog and check it out.

"The MG Series MGA Service Parts List"


Soft cover. Originally issued by The M.G. Car Company Ltd


Hundreds of pages of parts explosion drawings and facing pages with original factory part numbers. Some parts vendors may use these part numbers, some not. Some of these original part numbers will be obsolete or superseded. These books are specific to a single car model, although later revisions include earlier part numbers that were superseded. Good historical data, and would help identify parts by the original numbering system.

"The MG Series MGA Service Parts List" - First Edition SPL, 6/56 Printing

"The MG Series MGA Service Parts List (1500)" 212p. (20 PDF files)

"The MG Series MGA Twin Cam Service Parts List, v2" 240p. (23 PDF files)

"The MG Series MGA Twin Cam Service Parts List, v3" 240p. (23 PDF files)

"The MG Series MGA 1600 Service Parts List" 274p. (23 PDF files)
-- Includes 1600-MK-II and Competition Suspension (the "Deluxe" option)