The MGA With An Attitude
Lucas Master Parts Catalog 400E - 1945-1960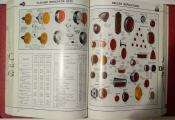 Aftermarket Operations, hundreds of pages. Lucas Car & Commercial Vehicles 1945–1960 Equipment & Spare Parts Master Catalogue. Complete electrical specification given for every make and model - over 90 makes and 600 models listed. This is followed by chapters on each type of equipment, i.e. starters, distributors, switches, lighting, etc. with pictured and component breakdown. Also supercession list at back.

This is a bit of overkill for the average MGA owner, as it covers all vehicles with Lucas equipment, but it may be useful for finding part numbers for small component parts or rare out of production parts. It was printed in successive issues over time, covering various ranges of model years. These days it is more useful as a technical reference manual. It has most recently been listed on eBay in CD form for (1939-1954) or (1945–1960) and possibly other issues.

It is split into 21 separate files so folks stuck on slow data links don't have to download it all in one bite (largest file = 8.5-MB, Sec-A Equip Spec's in two parts). You will need PDF reader program such as the Foxit Reader or the Adobe Reader to view the PDF files.

Bad news is nearly 100KB per page.
Good news is they have been OCR'd so you can find anything with a text search.

SECTION
Index, Contents, Sec-A Vehicle Index                              (10p, 1.0-MB)
Sec-A Equipment Specification, AC-Jaguar                          (83p, 8.5-MB)
Sec-A Equipment Specification, Jensen-Wolseley                    (71p, 7.2-MB)
Sec-B Ammeters, Battery parts, Cable sundries, 'Lucar' connectors (18p, 1.7-MB)
Sec-C Control boxes, Cutouts, Fuse boxes, Junction boxes 
                                      Regulators, Terminal blocks (24p, 2.3-MB)
Sec-D Generators - Dynamotor, Alternators                         (28p, 2.7-MB)
Sec-E Electric Horns                                              (10p, 1.0-MB)
Sec-F Ignition - Distributors, H.T. Coils, Magnetos, Surpressors  (68p, 7.0-MB)
Sec-G Headlamps - External and Flush Fitting                      (86p, 8.3-MB)
Sec-H Lamps - Fog, Pass and Driving lamps                         (16p, 2.5-MB)
Sec-J Lamps - Side lamps, Side/Flasher and Front Flasher lamps    (14p, 2.0-MB)
Sec-K Rear Lamps - SReflex Reflectors and Flashing Indicator sets (72p, 7.3-MB)
Sec-L Sundry lamps, Warning lights, Panel lights, 
                                    Plugs and Sockets, Lamp bulbs (20p, 1.8-MB)
Sec-M Trafficators                                                ( 8p, 0.7-MB)
Sec-N Starting Motors                                             (40p, 3.8-MB)
Sec-P Steering Column Controls, Control Arms and Nacelles         (32p, 2.5-MB)
Sec-Q Switches                                                    (38p, 3.3-MB)
Sec-R Windshield Wipers and Screenjets                            (48p, 4.1-MB)
Sec-S Automatic Transmission and Overdrive equipment              ( 8p, 0.8-MB)
Sec-T Supersession Chart                                          ( 8p, 0.8-MB)
Sec-U Numerical Index                                             (38p, 3.8-MB)
                                            Total all PDF files = 756p 72.9-MB