The MGA With An Attitude
What is an MGA "Deluxe"? -- BUY-100A
Beginning in April 1960 (or possibly as early as September 1959) there was an option available on the dealer sales ordering check list called Competition Suspension. This is sometimes refered to in factory parts books as "All Round Disc Brakes" or "All Wheel Disk Brakes model". This was in fact a near complete Twin Cam chassis, with the knockoff steel wheels, Dunlop four wheel disk brakes, and separate master cylinders. This required a variation of the frame for mounting the master cylinders, but no change of the body in the area of the standard heater box, and no change around the radiator, although the steering rack was (usually) set forward a bit like the Twin Cam cars. As such, the Competition Suspension option was quite costly (relatively speaking), and required a different "hybrid" main body shell.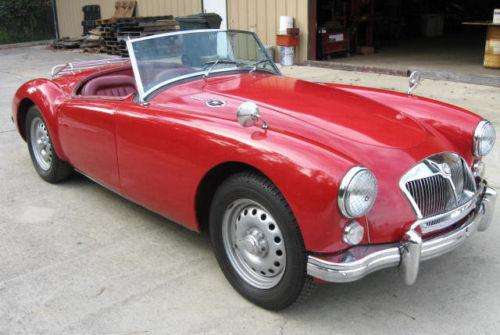 You may notice I keep putting "Deluxe" in quotes. That's because there never was a Deluxe model from the factory. That is, the factory never used the term "Deluxe" as a model designation. The Competition Deluxe Seats did in fact have that proper name in the options list. Cars fitted with Competition Suspension were also often fitted with Close Ratio Gearbox, Competition Deluxe Seats and sometimes a hardtop as well. The term "Deluxe" as a model designation seems to stem from Dealers trying to sell the cars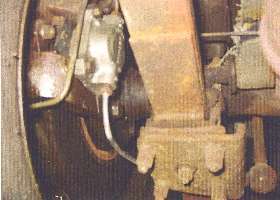 with some (any) combination of these expensive options calling them "Deluxe" cars. With time the general public came to refer to any pushrod engine car with Competition Suspension (the visible knockoff steel wheels) as a deluxe MGA, or MGA "Deluxe". Today what we commonly call an MGA "Deluxe" will be a pushrod engine car with the knockoff steel wheels and four wheel disk brakes. This may or may not have any of the other expensive options.

This comment came from Frank Graham <!-frankgraham at msn.com-> in New Jersey, USA, on 12 February 2002:


"The service parts list says the Dunlop disc brakes and pin located disc wheels became available in April 1960, the first 'Deluxe', even though the factory never ever called them anything but 1600s and 1600 MKIIs. The FIA homolgation papers filed with the FIA in Paris in September 1959 listed Dunlop center lock wheels and all round disc brakes as available optional equipment for the 1600. They would not have done that unless there was at least one privately owned production car out there running these brakes and wheels that they could point to in order to establish the legality of the option. So the first so called 'Deluxe' was built around September '59 not April '60, but once it says something different in print no one will believe anything else".

Cars equipped with the Dunlop 4-wheel disc brakes and pin drive steel wheels could be 1600 or 1600-MK-II models, and could be either roadster or Coupe. Twin Cams were built during latter 1500 model production, but there is no record of any 1500 car being so equipped by the factory. Indeed, such a setup would have required another different hybrid main body shell.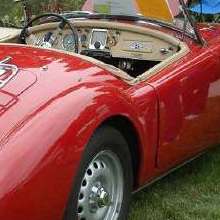 When the 1600 roadster was built in this configuration it would have vinyl covered dash panel with bright trim and chrome center bezel, same as the Twin Cam roadster. Additionally it would have vinyl overlay on the scuttle between dash and whindscreen, which the Twin Cam did not have. All Coupes and 1600-MK-II cars would have vinal overlay on the dash and scuttle with or without the competition chassis.