The MGA With An Attitude
Welcome to BUYING (or selling) AN MGA.
So the bug has taken its first bite, and this neat little sports car has caught your eye. It says MG on the front and back, and MGA on the cowl vents, and those really cool style lines are tugging on your heart strings. Your head is in the clouds, your feet don't quite touch the ground, and you're already thinking about the open road and wind in your hair.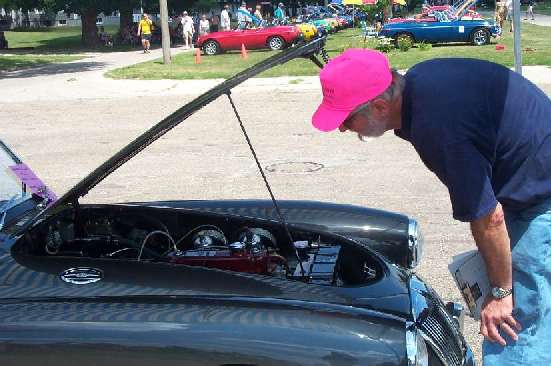 Yes, this is tech if you can keep a level head.
But just what does it take to get you from here to there? It is almost never quite as simple as writing a check and driving away, and the process of buying an MGA is the first place that you really don't want to screw up. With this page I beseech thee to keep your head on your shoulders and your feet on the ground, and give it all due consideration in advance so that the final plunge might be pleasant and rewarding. On the flip side, where there's a buyer there must be a seller, so to encourage and assist in ownership I also have a few notes on selling an MGA. As a buyer or a seller, you would want to read both sides of the story.

BUY-100 - INTRODUCTION to MGA Cars
BUY-100A - What is an MGA "Deluxe"?
BUY-100B - What Is It Like To DRIVE An MGA?
BUY-100C - Why People Buy An MGA
BUY-101 - IDENTIFYING NUMBERS found on the MGA.
BUY-101A - Identifying Numbers - CAR NUMBER
BUY-101B - Identifying Numbers - BODY NUMBER
BUY-101C - Identifying Numbers - CHASSIS NMBER
BUY-101C2 - MGA Archeology - Chassis Identification - (0.7-MB pdf)
-os- Raising the numbers: Restoring Altered VINs or Serial Numbers
-os- Raising the Dead in Dr Bluto's lab
BUY-101D - Identifying Numbers - ENGINE NUMBER
BUY-101E - Identifying Numbers - BLOCK NUMBER
BUY-101F - Identifying Numbers - TACHOMETER DRIVE
BUY-101G - Identifying Numbers - CYLINDER HEAD NUMBER
BUY-101H - Identifying Numbers - CARBURETOR TYPE
BUY-101I - Identifying Numbers - GEARBOX NUMBER
BUY-101J - Identifying Numbers - REAR AXLE NUMBER
BUY-101K - Identifying Numbers - DIFFERENTIAL GEAR RATIO


BUY-102 - Is it LEGAL to BUY OR SELL A TITLE?
BUY-102A - LEGAL CARS and TITLES - example 1
BUY-102B - LEGAL CARS and TITLES - example 2
BUY-102C - Registering a Car With NO TITLE
BUY-102D - The "CREATIVE RESTORATION"
BUY-103 - What RELIABILITY issue?
BUY-104 - INSURANCE considerations

BUY-105 - IS THE ENGINE ORIGINAL?
BUY-106 - NON-ORIGINAL Engine Quandry
BUY-107 - Searching for YOUR CAR'S HISTORY
BUY-108 - WHERE and HOW to BUY an MGA
BUY-110 - Buying the WRONG "Restored" MGA
BUY-111 - How to READ BETWEEN THE LINES of a Car For Sale ad
BUY-112 - Buying a PROJECT CAR

BUY-120 - os - Format of MGA Car No's. - MGAR-Holland
BUY-121 - os - MGA Chassis, Engine & Body Numbers Reg. - MGAR-Holland
BUY-122 - os - MGA Twin Cam Register - Australian T.C.R.
BUY-123 - os - MGA Twin Cam Data - MGAR Italy
BUY-130 - os - BUYER'S GUIDE, Hemmings Sports & Exotic Car, July 2006
BUY-131 - Used Car Buyer's Inspection Check List (138-KB pdf)

BYE-101 - BECOMING THE D.P.O. (Selling your MGA)
BYE-102 - How Much is a PROJECT CAR Worth?
BYE-103 - SPECULATIVE Market Value (2004)
BYE-104 - SPECULATIVE Market Value (2007)
BYE-105 - SPECULATIVE Market Value (2011)
BYE-106 - SPECULATIVE Market Value (2017)