The MGA With An Attitude
CKD MGA Assembled in Mexico - CKD-106
Automoviles Ingleses SA, Mexico City - First 4 cars in January 1956.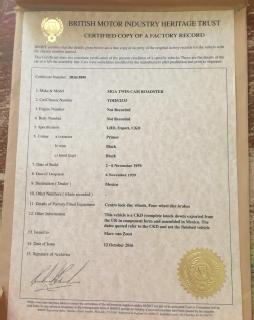 We have record of one shipped to Mexico in November 1959, and it is a Twin Cam. This is a Heritage cetificate showing chassis number YDH5/2535 in primer with black trim included (and Center lock disc wheels and Four wheel disc brakes specifically listed).

On 10/22/2016, Mvanzoest <!-vanzoestm at aol.com>- wrote:
"I have in my shop [in Clovis, CA] an original MGA Twin Cam CKD, built in Mexico, and they were all given chassis numbers: YDH5/xxxxx but LHD. (Sometimes I read that YDH5 means RHD)".

Of particular interest is the Car No. prefix YDH5, where "5" normally means RHD, but in this case it is a LHD car. Below is a excerpt from some Twin Cam Group data published in Safety Fast November 1982, showing that some of the LHD cars were mislabeled from the factory. See Note 4.