The MGA With An Attitude
CKD MGA Assembled in Ireland - CKD-105
Completely Knocked Down MGA cars were built up in Ireland by Booth Poole and Co Ltd, Dublin. The first 4 cars were produced in January 1956. These cars were believed to all be under-sealed, had leather seats, and could be ordered in any color combination, but were Roadsters only (pushrod and Twin Cam).


In early May 2007 one of these cars came up for sale in Capetown, South Africa:

1956 M.G. A Twin Cam Roadster, 4 speed manual, solid wheels, new leather interior, new soft top, Midnight Blue, immaculate condition.
Motostars, Western Cape
Tel: 021 423-1800, Price: R 235 000
Email: info@motostars.co.za

This is reported to be the first car built of only 8 Irish CKD cars, car number YDH5 1039. The original colors on CKD cars were not recorded, and this car had no optional extras listed. Notice it has an extra length tonneau cover (not factory issue). Click for larger pictures.

At 03:26 PM 5/1/2007 +0200, Rod Green wrote:
"I know the car. The last owner was Fred Phillips, owner of quite a few historic race cars. YDH5 1039 was restored in Knysna by Cooper (?)."

At 07:28 AM 5/2/2007 +0200, Rod Green wrote:
"YDH5 1039 was painted its dark blue in Knysna only a few years ago, and the color was purely the choice of its then owner, owing nothing to any previous color it might have had."






---
On 10/3/2014, John Follett <!-jandj.follett at btinternet.com-> in the UK wrote:
"1963 MGA 1600-Mk-II. I have owned the above Registration UXC 600 since 1970. Where would I find the CKD number? The car has been rebuilt in 1984 with bare metal respray and major body shell repairs within the last 5 years. Unfortunately I do not have the original registration document. Is it possible to discover who supplied the car? ---- The registration UZC 600 indicates that my car was registered in Eire in 1963. I have the heritage certificate which identifies that the car was exported to Eire in 1961 CDK and there is no record of chassis or other number except the engine no. After reading your article, which includes the information that 8 MGAs were exported CDK to Eire, it would appear that my car is one of those 8. I was therefore inquiring where if at all there was a cdk number, similar to those exported to Australia".

---
On 7/18/2017, Hamish Riley-Smith <!-hamish at riley-smith.com-> wrote:
"This was my car which my father bought for me new for my 21st in 1962".
Hamish Riley-Smith Rare Books
Swanton Abbot Hall, Swanton Abbot, Norfolk, England NR10 5DJ

On 7/20/2017, Hamish Riley-Smith wrote:
"Here is the 1962 invoice with details of my MG, also the service book and handbook".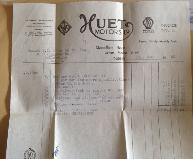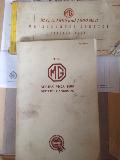 The original color was tartan green. However within a year someone had hit me from behind in England and it was resprayed gold. I think I sold the MG around 1966-68 as I was married with children".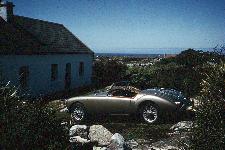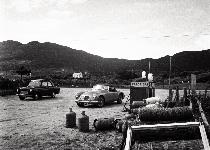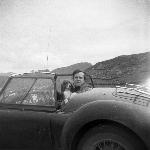 Rounstone 1963

Rounstone, Joe Rafferty's Store 1963