The MGA With An Attitude
Water Pumps, MGB Type - CO-108D
MGB water pumps are similar in construction to the late MGA pump with cartridge bearing and press fit pulley hub. There are four different models for MGB. The first is for 1962-1964 G and GA series 3-main bearing engines. The rest are for the 5-main bearing engines, 1965-1971 GB-GK engines, 1972-1974 18V engines, 1975-1989 18V engines.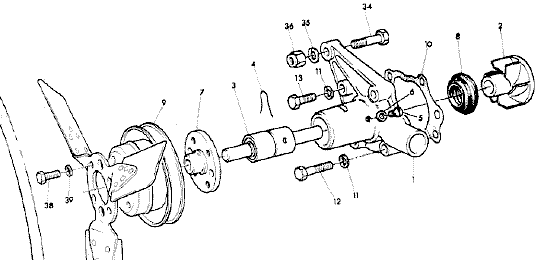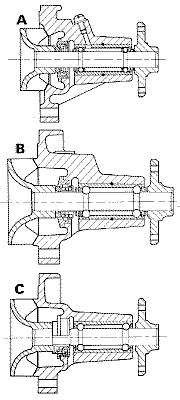 Until someone tells me otherwise, I believe the MGA and early MGB (3-main) water pumps are physically interchangeable. The impeller on the early MGB pump is longer front to back, but the extra length is forward into the rear of the pump body, not any farther into the engine block. Fitting the early MGB pump to the MGA may be a way to increase water flow in the MGA, but I haven't verified the fit yet.

From a 1967 MGB (1965-1971 GB-GK engines), Peter Tilbury in Surrey, BC, Canada reports: The MGB pump on this engine measures 4.125" from engine face to front of hub for the blade.