The MGA With An Attitude
Using the MGB RADIATOR in the MGA, #1 - CO-205
For reasons of aesthetics and originality, I do not recommend this change, but it may be useful in an emergency, or if you maintain an MGA on a tight budget.

At 04:13 PM 5/1/05 -0700, Dave Houser sent these notes and pictures.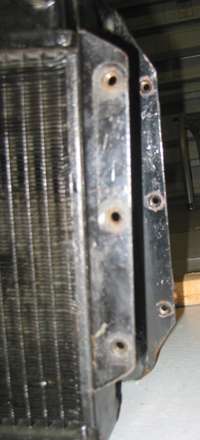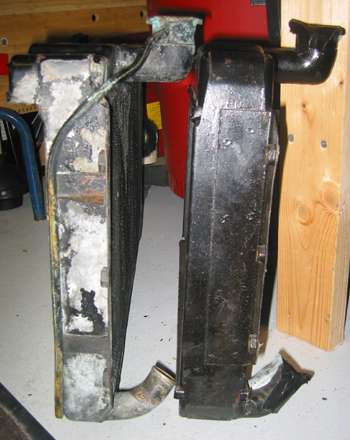 [Dave] - I have attached photos that show the physical differences in the MGA and MGB radiators. With some work, in an emergency, I believe you can use the Early MGB in the MGA. The MGB fits right in but only the top captive nuts can be secured. The middle and bottom holes don't line up with the MGA mounting holes. The mounting brackets on the side of the MGA radiator are longer than the MGB. The MGA would have to be drilled with another hole to line up the second hole of the MGB radiator. This would mean only 4 bolts instead of 6 to secure it in place but I believe that would suffice.

[Barney] - While this does hold the radiator in place, the absence of the two bottom bolts may allow for increased vibration of the radiator, especially at the bottom end. The radiator is mounted directly on the body with no vibration isolation. It has been my experience that in stock configuration vibration can lead to fractures of the solder joints and leakage from the seams. When I was driving 12,000 to 20,000 miles annually on all sorts of roads and in mild competition, I had the radiator in the shop for solder repairs about once per year. I have since had some modifications made to the radiator to solve this problem, but stock form radiators may sill have some problems with vibration. I think it would be advisable to drill a third hole near the bottom of each side flange to allow use of a bolt and nut for the additional securing point.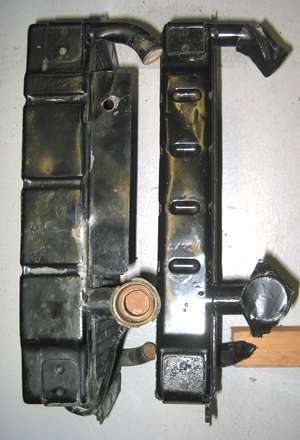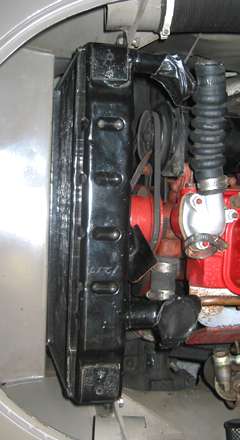 [Dave] - While the MGA header tank is wider than the B, the B is a bit taller so total capacity should be very close. The fan blades clear the edge of the [top] tank but don't have the shroud provided for by the MGA, where the bonnet stay attaches. Watch your fingers!! Top and bottom hoses would hook right up. That's all the important stuff.


[Barney] -On the MGB radiator the bottom tank protrudes slightly at the back of the core. The MGB fan blade is notched on the front corners of the fins to provide adequate running clearance from the radiator bottom tank (photo at right). When you use the MGA fan blade with the MGB radiator, the tips of the blades come uncomfortably close to the bottom tank.

It would be advisable to switch to the MGB fan when installing the MGB radiator. The MGA fan may work okay as long as you don't do any emergency maneuvers which might shift the engine around on the rubber mounts. MGB also uses a fore/aft stabilizer link from the gearbox to the frame cross member to prevent the engine from moving forward during hard braking or mild frontal impact. While the MGA does not have this part, the MGA gearbox is much more resistant to such dislocation of the engine, as the MGA gearbox mount is much stiffer than the MGB mount.



Early MGB fan with notched blades