The MGA With An Attitude

MGAguru.com
MGAguru.com
WINDSCREEN INSTALLATION Front & Rear, Coupe #3 - CP-103B
On 3/7/2016, Jim Cheatham <!-jimcheatham at yahoo.com-> in Amelia, VA wrote:
"I successfully (almost) test fit my rear glass. The reason I said almost is because I tore the lip that goes over the flange in two places with the rope so I'll need to buy a new one. The reason I did a "test fit" was because I was concerned that the rear glass might not fit since my body work guy did some work in that area and I wanted to be sure it fit before I get too much further.

I did the install by myself. I used two medium sized ratchet straps to hold the window unit in place. This seemed to work pretty well. I put micro fiber towels between the body and the strap at each door opening so I wouldn't mess up the paint. Didn't need to put a lot of tension on it. Just enough to hold the gasket up close to the flange. (I don't think I would do this if the rain gutters were already in because it might damage them.) Then I used the rope trick to lift the rubber over the flange. I still had to get in and out of the car several times to push a little in some places that the seal was not quite close enough to the flange. The gasket barely covers the curve at the bottom of each side so I might fill that area with sealant when I do the final install.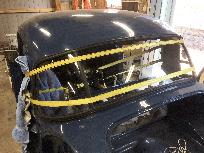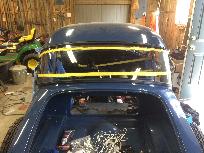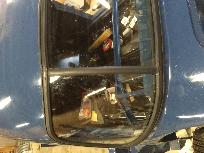 As you can see from the pictures, the upright bars appear to be too short to allow the chrome strip to be installed straight. This seal came from Scarborough Faire about 2-1/2 years ago. I sent an email and these pictures to Cecelia. If the seals she has are still the same, I will probably see if I can get one from Bob West in England".