The MGA With An Attitude

MGAguru.com
MGAguru.com
Headliner TEMPLATES, MGA Coupe - CP-104T
Make Your Own
Jim Cheatham <!-jimcheatham at yahoo.com-> in Amelia, VA, USA wrote:
"Here are the patterns that I had scanned as PDF files. You should be able to take these files or email them to a printer that can print large scale drawings for you. I cannot guarantee that your headliner will fit based on using this pattern. Use them at your own risk.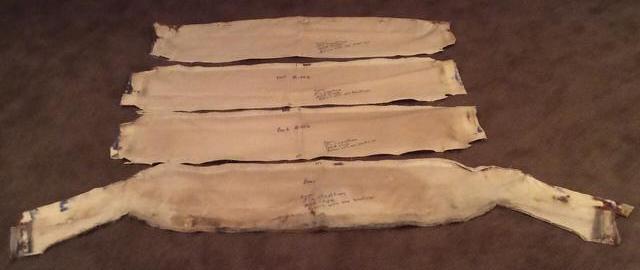 MGA Coupe Headliner Pattern
Traced from Original MGA Headliner
from MGA Coupe Car No. 31994 belonging to Jim Cheatham


Click for Full Scale Templates, 2.1-MB pdf file)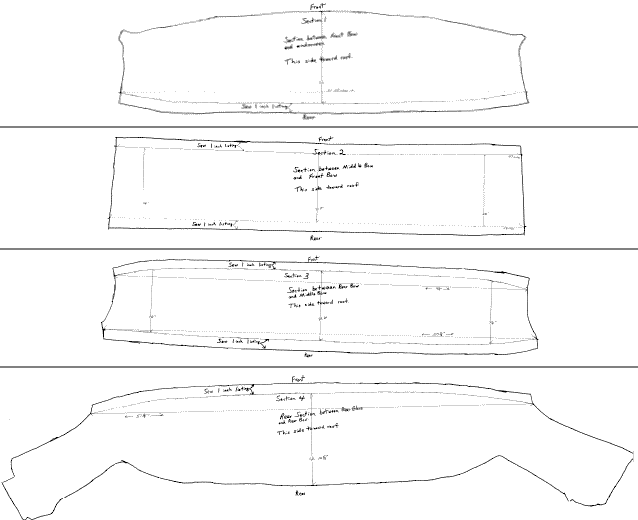 There are four (4) sections to the MGA Coupe headliner. Each section is sewn to the adjoining section creating three (3) listings (casing that the headliner bows are inserted into).

THIS IS IMPORTANT TO KNOW ABOUT THE PATTERNS.


Each section is traced from an original headliner that had been fitted to a car, so it was trimmed after installation. Therefore, extra vinyl needs to be added to the front of section 1, to the rear of section 4 and to the outside edges of all four (4) sections to allow enough material to pull the headliner tight and smooth.


Also, the three (3) casings created for the headliner bows are made from the excess material left on the back side of the headliner after sewing the sections together. Add enough extra material to allow the upholsterer to sew a 1" (one inch) casing without having the foot of the sewing machine going off of the edge of the fabric. The excess material of the three (3) casings can be trimmed after sewing is complete.


The ends of each casing will need to be trimmed so that the ends of the bows are revealed to allow the bows to be attached to the roof. Center the bows in the casings before trimming. Do final trimming of the casings after the bows are attached to the roof. DO NOT TRIM TOO MUCH.

Here are a couple of pictures that might make the sewing of the casings more clear.