The MGA With An Attitude
WINDOW FRAME ALIGNMENT - CP-112B
December 24, 2013, Dave Haywood <!-undertowrocks at yahoo.ca-> in Madoc, Ontario, Canada wrote:
"When I installed the chrome trim around the inside of the door, the window chrome now hits it when I close the door. The door lines up true with the fenders, so I cant adjust the hinges. Is there a way to adjust the window trim downward to make more room at the top? It hits where the two screws attach at the top of the vent window, and at the bend at the back side of the door".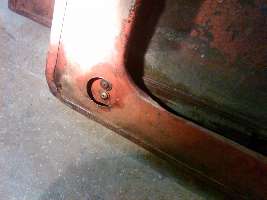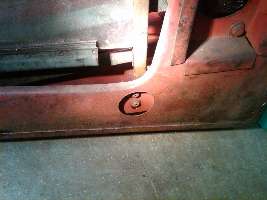 These photos (from Bob Krzywicki <!-krzywickibob at aol.com-> in Arlington, VA, USA) show the two angle brackets that fix the window runner to the door. You can loosen the two screws on the bracket, and also loosen the screw that holds the bottom of the chrome runner to the bracket (inside the chrome runner at the bottom). Hard to get to, and you may have to put the window up a bit for access. Also loosen the screws that hold the "pyramid" to the door (at the rear near the door latch), and the screws at the front near the quarter light. Drop the runner down to clear the body at top of window frame, and tighten all screws to hold it in place. The same screws at top allow you to adjust the pressure of the window surround against the door felt at the top, to ensure you have a seal there.