The MGA With An Attitude
SILL TRIM MOLDINGS for MGA Coupe - CP-121
The stainless steel door trims at the edge of the carpet in the MGA Coupe seem to be currently unavailable.

At 08:51 PM 4/22/06, Cliff Jones wrote:
"A friend with a BGT said they were installed on his car also, looked in Moss, I found listed (part # 457-240) seal retainer they are 27 1/2" long the ones in the MGA coupe in 27 3/4" long I ordered a set they will arrive this week, I will let you know if they work."

At 07:15 AM 4/27/06,Cliff Jones wrote:
"The weather seal hold down strips I ordered from Moss cat. (MGB-MGC) will work great on the MGA coupe after the bend is added for the curve at the back section."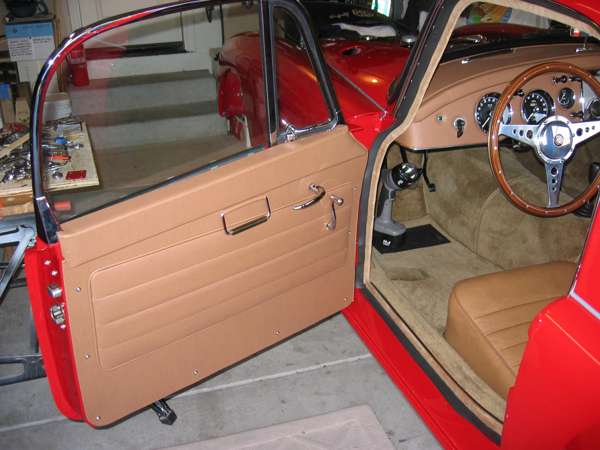 Photo supplied by Andy Preston, California, USA. <!- andypreston at sbcglobal.net>

On February 24, 2015, Jim Cheatham <!-jimcheatham at yahoo.com-> in Amelia, VA, USA wrote:
"Today, I cleaned up the right side door seal retainer strip that I bought. This coupe-only part is no longer available and is not being made as an aftermarket part due to its limited demand".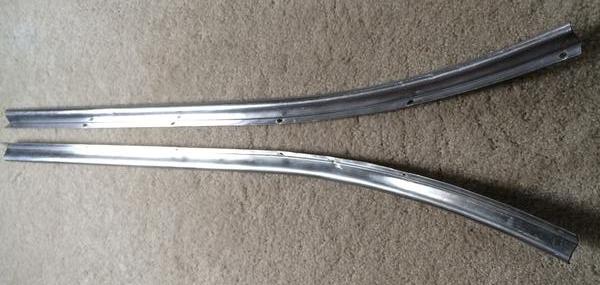 ---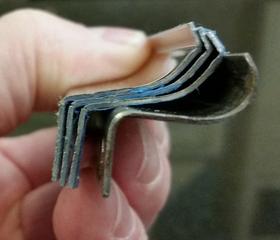 On Sep 30, 2016, Bob K in northern Virginia USA wrote:
"Moss part 457-240 retainer door sill for an MGB. Those are the SS pieces from Moss for the MGB GT. The new part is 3/4 shorter than the original. The profiles are close but not perfect. I plan to run it through the bead roller to get the nice curved radius and then the shrinker stretcher to get the slight upward bend".