The MGA With An Attitude
PARCEL SHELF for the MGA 1500 Coupe - CP-126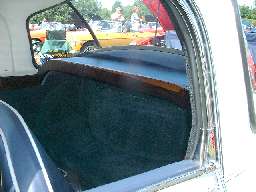 1500 type -- The exposed wood here was originally covered with vinyl.


Behind the seats the Coupe has a full width parcel shelf extending forward from the back of the roof line. The 1500 model has the spare tire protruding forward through the rear bulkhead similar to the roadster. The parcel shelf is wide on the 1500, approaching close to the back of the seats, almost like the steel body tonneau on the roadster.

The parcel shelf sits on a light metal framework of C-channel along the front, and a thin metal plate at the back. Structure of the shelf was thin plywood or particle board, similar to interior door panels, with solid wood facing bar. The entire assembly was covered with vinyl fabric with no exposed wood. The front rail coud be a contrasting color on some 1500 cars (see chart below).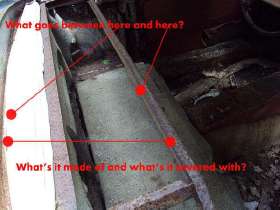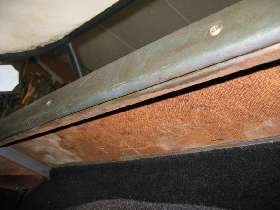 Above and below, 1500 type parts. Front board vinyl cover was originally contrasting white for a white 1500 Coupe. When re-trimming, the 1500 front rail color may have been changed to match interior trim color.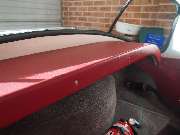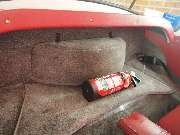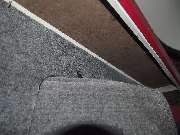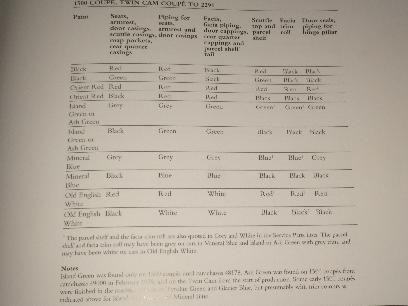 Trim colors for 1500 Coupe
from "Original MGA" by Anders Ditlev Clausager

On 10/23/2015, Jim Cheatham <!-jimcheatham at yahoo.com-> in Amelia, Virginia, USA wrote:
"I had to make a new parcel shelf rail board. The original one was delaminating on the ends but was still good enough to use as a template on my router table using a bit with a roller bearing on the end to follow the profile. I used a piece of the 7-ply plywood that was left from making my floorboards.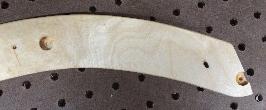 Original trim rail board is 0.3575" thick. The new board, after a little sanding with my orbital sander, is 0.360" thick. The picture below shows, from top to bottom, the original vinyl, the original board and my new board. The second picture shows the recess holes on the back of the new board for the heads of the parcel shelf frame screws".


This one is for the MGA 1500 Coupe.


---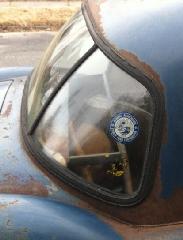 Photos below compliments of Jim Cheatham <!-jimcheatham at yahoo.com-> in Amelia, VA, USA.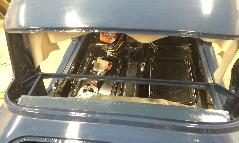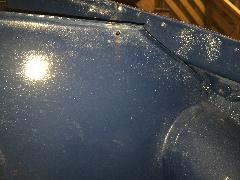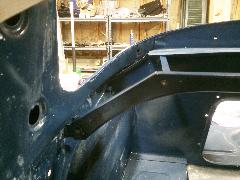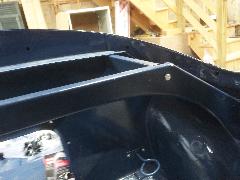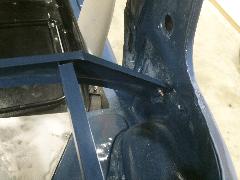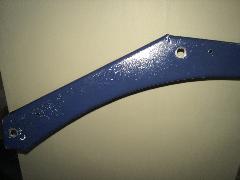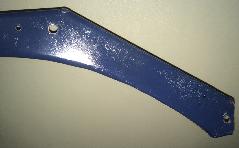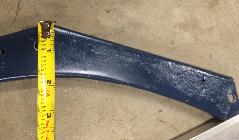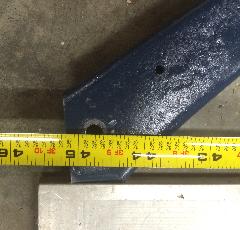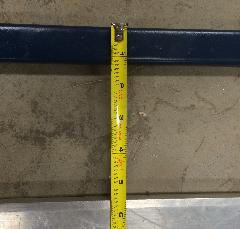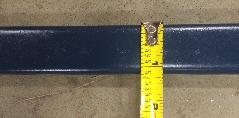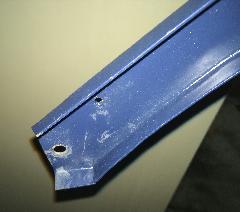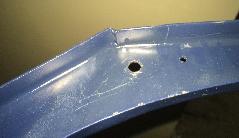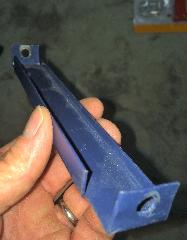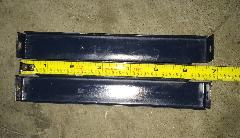 I have made CAD drawings which are very impressive, but they are currently "cartoons" whipped up by scaling the pictures above, including the tape measure dimensions, so most of the dimensions will be wrong. I sent the drawings to Jim Cheatham hoping that he will measure the parts and correct the errant dimensions. Not done yet.

Meanwhile Bob K on the MGE bbs has posted a bunch of pictures with more tape measures and some caliper measurements. See here:
http://www.mgexp.com/phorum/read.php?2,3151641,page=2
I will endeavour to adjust the dimensions on my drawings accordingly (when time allows).