The MGA With An Attitude HIGH BACK SEATS For MGA Coupe - CP-301
This note is from Harry Kinsman <!-kinsman atepix.net-> in Ulster, Pennsylvania, USA


"I recently installed a new set of seats in my 59 coupe restoration project. I read you articles as well as every other one I could find on what seats would work. I must admit I spent hours/days searching/fretting over what seats would fit, look good etc. After finding a set that had the correct dimensions and calling the company to verify I purchased the set. I bought them from Carid.com. They are made by Cipher Auto®, El Monte, California, USA. -- CPA3001FBK - CPA3001 Series Reclinable Steel Tubular Frame Suspension Seats, Black Leatherette Cover with Cloth Insert, sliding adjusters included --$379 for the set and free S&H.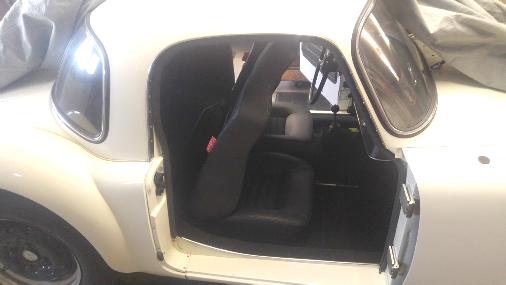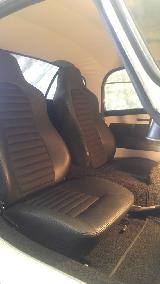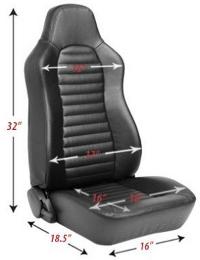 Although the basic dimensions were correct to fit down into the space the seats would not because of the recline mechanism/cover and opposite side hinge design. I had them re-boxed and ready to send back when I decided to modify them to fit. Without the above mechanisms on the seats they fit into the restricted space (18.5") very nicely with a bit of room to spare. My challenge was to remove the hinge/recliners pieces and fabricate a new narrower design that would allow the rear of the seat to fit down into the space.

Here are the dimensions on the website. What they don't show is the rear seat bottom dimension which is approx. 19.5" and will not fit into the space. The seat bottom, right out of the box fits very nicely, with room to spare, in the car with carpeting/padding installed. This is the main reason I decided to keep the seats and make hinges etc".

I can't wait to see if he gets a shoulder harness to work here.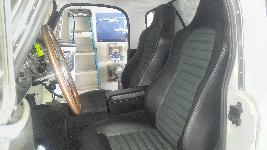 On 2/11/2017, Harry Kinsman wrote:
"Since this photo I built an arm rest for between the seats. It has a hinged top with padding. I did weld plates in the sides of the top support prior to installing the headliner for mounting the top link for a 3-pt seat belt system. It has a 7/16-14 thread (nut)".