The MGA With An Attitude
Display Panel, 2 Instruments and Cubby - DT-210
This idea is submitted by John Francis <!-jh.francis ar btinternet.com-> in Oxfordshire, UK.
"I have designed and fitted some extra instruments, clock and ammeter, below the dashboard and hanging from the dashboard stays. The dash panel also has a cubby for mobile phone/Iplayer and wallet. The cubby cannot be seen when in the driving position. The assembly was made by a local company in aluminum and was not too expensive".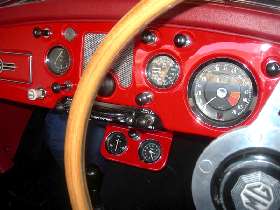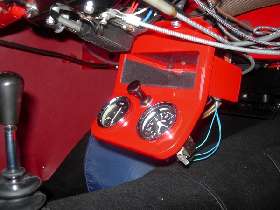 Picture shows cubby and new fuse box mounted on the stay above the ammeter as well. The heater cables all clear the box. Plenty of room for gear changing. On the RH drive car enough room to let your clutch leg flop against the tunnel without knocking into it even with tall driver.