The MGA With An Attitude
GPS MOUNTING in the MGA -- DT-230


On 4/12/2015, Mike Ellsmore <!-mike.ellsmore at gmail.com-> wrote:
"A problem that has been bugging me is where best to mount a GPS/cell phone in an MGA. I didn't want something down low on drive tunnel or stuck on the windscreen that would block the view. Because I have fitted a spare wheel holder on the boot, the standard MGA rear view mirror was useless so I removed it and replaced it with a suction cup held mirror high on the windscreen. This left me with a spot to fix a bracket for my cell phone/GPS. It is made from 50 mm x 3 mm aluminium strip 140 mm long, bent at the 90 mm mark (105 degree included angle) - with (2) 3/16" dia holes, 10 mm in from one end (1 5/8" between centres to match rear view mirror fixing holes) and a 4 mm dia hole in 10 mm at the other end to suit a cell phone holder I bought at a local shop. You can use any holder by bolting it to the bracket - mine uses a single M4 bolt. Only bending the bracket to 105 degrees sets the screen at the same slope as the A dash - if you don't want to use the ball joint at the back of the holder to angle the screen.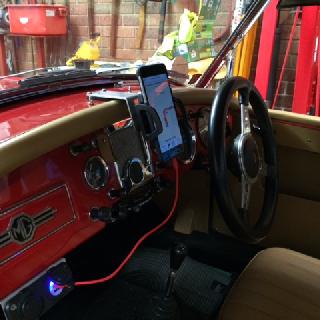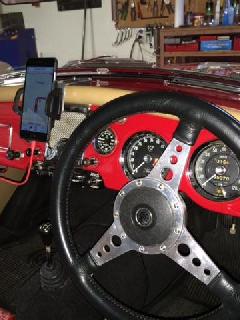 "When installing the bracket it needs a couple of 1/4" thick insertion rubber pads under the bracket to prevent it scratching the dash paint and to clear the dash rail padding. The photos of the installation in the car show the bracket with a 90 degree bend - my first attempt, but you will see has a ball socket on the holder so screen can be angled. For anyone wishing to retain the rear view mirror in the original spot the bracket could be made similar to that shown in the attached sketch (needs a bit wider aluminium strip) then the mirror could be mounted on top of the bracket. (with these brackets you can still get to the ignition key and light switch and there is enough clearance between the steering wheel and phone in both landscape and portrait mode.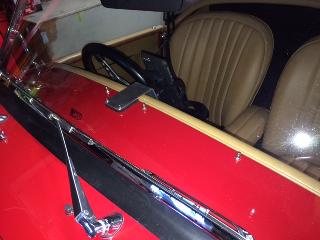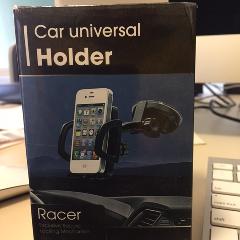 "On the GPS issue rather than use a stand alone GPS I have elected to use my iPhone and purchased the UK/Western Europe map app from TomTom (2GB). This just uses the GPS receiver in the phone but does not require a connection to the phone network (3G-4G) or wi-fi so no roaming costs. Cost of maps is reasonable at $A61 with lifetime map upgrades (I use the same system in Australia and works well)".