The MGA With An Attitude
HORN MOUNTING with optional oil cooler - ET-109D
A slight word of caution here. When installing a factory issue style oil cooler with steel pipes under the front air pan, there is factory instructions to drill new holes in the front frame extension to relocate the horns. When you do this as directed, you may end up with the horns positioned very close to touching the round cross tube of the frame.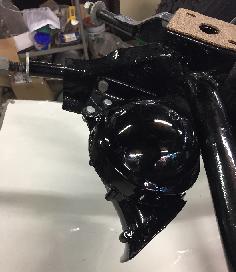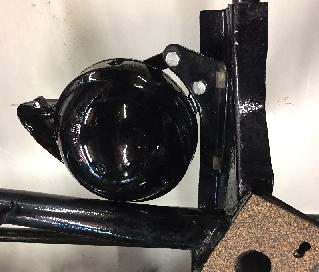 (Photos compliments of Mark Wellard <!-wellardm at optusnet.com.au-> in Australia).

It may be possible to bend the bracket(s) slightly to position the horn(s) a bit farther from the frame so they may not rattle with vibration. Or you might consider wrapping some rubber around the frame to damp out the vibration which could make the parts touch the frame and rattle.

The second set of holes are pre-drilled for the more forward horn position in later cars, probably the 1600 and Mk2. The horn in the 1600 cars that I have seen is touching the cross tube in the front extension. Perhaps vibration is not a problem. Oil cooler fitted as standard on export cars, Coupe models 102737 July 1961, roadster models 102950, August 1961).