The MGA With An Attitude
Engine OIL COOLER Installation, Original Style - OF-105A
At 10:19 AM 12/31/04 -0700, Bill Greenwood wrote:
>"I have fitted the 1800cc engine in my MGA and I have bought an Oil Cooler Kit. Any advice on installation, i.e. what is the best place to mount the cooler?"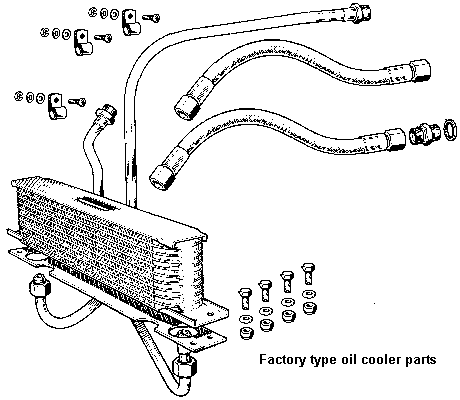 Factory installation for the MGA put the oil cooler on top of the air pan ahead of the radiator where it would receive first air entering through the grille. Holes were punched in the air pan to allow connection of the lines from the bottom. Formed steel lines were routed from the bottom of the cooler, running up behind the radiator on the right to be retained with P-clips on the inner fender. The steel lines are not currently available new, but a crafty tubing bender could make these lines, given the proper end fittings. There were also short flexible hoses from the back ends of the steel lines to the engine. Note that the common original type oil cooler is 10 row, bottom ported, and has mounting ears on the bottom only. For hole locations on air pan and inner fender see MGA Special Tuning Manual AKD819 (3.1-MB pdf), pages 24-25, or Oil Cooler Installation Drawings (0.4-MB pdf).



I am guessing that the new oil cooler kit you bought will not be original style, but more likely aftermarket type. For that installation, see the next page.

NOTICE:When drilling new holes in the front frame extension to relocate the horns (as instructed above), you may end up with the horns positioned very close to touching the round cross tube of the frame. See photos and recommendations in article ET-109D in the electrical section.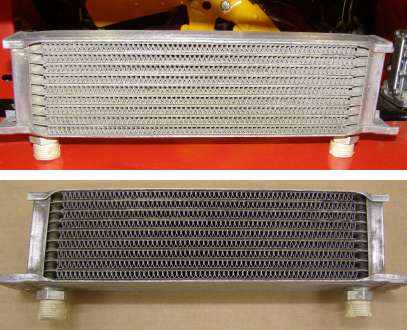 Ten row oil cooler, original factory style. No mounting ears on top.

This is the original style oil cooler,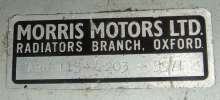 ARH 113 - 203 - 5971


10-rows of oil channels, bottom flange mount, and bottom ported (click for larger picture). This one is stripped bare aluminum, but I believe they were originally painted silver-gray. There was originally a "Morris Motors Ltd. Radiators Branch, Oxford" stick-on label on top showing Drawing number, Issue number, and Serial number, as shown here.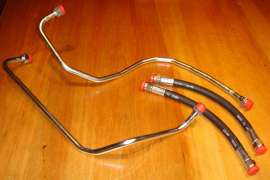 Addendum, December 2009: Tom Aczel <!- aczfam at tpg.com.au-> in Australia reports special ordering and receiving original style oil cooler pipes and hoses (shown here). These were supplied direct from Think Automotive in the UK - www.thinkauto.com, current manufacturers of Mocal products (for 160-BPS including postage to Australia). Hose ends are not exactly as original; see photo at bottom of page.