The MGA With An Attitude
OIL COOLER PIPES, for Twin Cam Engine - TC-322
Here we have a series of pictures to show location and routing of the oil cooler pipes on the Twin Cam engine. Click for larger pictures. First is an overall view of right side of engine with the pipes installed. Then there are four progressive close up views from back to front. The last picture shows the oil cooler pipes strung up in the final position in the chassis with engine removed. Notice for the Twin Cam the oil cooler pipes are rigidly attached to the engine with flex hoses at the front end, where on the pushrod engine cars the pipes are rigidly attached to the inner fender with flex hoses at the engine connectors.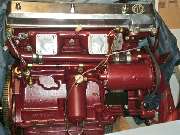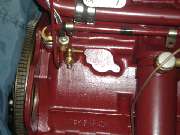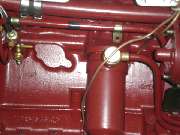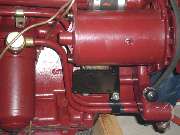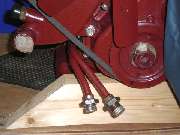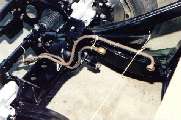 Photos provided by Christopher Cox <!-cjpcox at btinternet.com->

Notice two P-clips on the top oil cooler pipe. The forward one is too far forward and should be positioned farther back where you can see black tape around the pipe. When the engine does not have an oil cooler, these P-clips are on the oil pipe running from back corner of block to the oil filter mount (which runs in the same axial position). These P-clips are ultimately attached to fixed lugs on the copper pipe running between the water pump and (optional) heater. That copper pipe is connected with hose at both ends, so the heater water return pipe is mounted on the oil pipe with these two P-clips.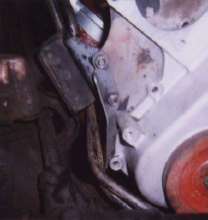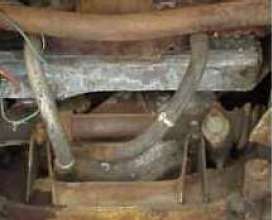 Where the oil cooler pipes come around the front corner of the engine there is a strong steel bracket attached to the front bolts of the engine mount bracket. This pipe bracket has a 2-pipe clip shown in the picture above left, but not on the bracket in the center picture. The picture above right is a view from underneath showing where flexible hoses run from the steel pipes, under the steering rack and radiator, and upward to the oil cooler connectors. Required length of these hoses will depend on type and location of the oil cooler. This picture shows connections to bottom of an oil cooler immediately in front of the water radiator, similar to the optional oil cooler that became standard equipment on later production 1600-MK-II cars. The other style oil cooler that was factory optional for Twin Cam cars was the smaller Competition Type oil cooler.

Special notes for Autralia cars: In Australia, MGA 1500/1600 cars did not have an oil cooler unless it was special ordered to be dealer or aftermarket installed. Australian built MGA 1600-MK-II cars all had oil cooler installed by the factory. Twin Cam cars, when they might be rarely brought to Australia new, were imported Completely Built Up (including import tax), never assembled in Australia.