The MGA With An Attitude
Engine OIL COOLER Installation, Competition Type - OF-105C1
Another original type of oil cooler sometimes fitted to the MGA was the more rare "competition" oil cooler, 4 row, much wider, to be mounted immediately behind the grille, with pipe connections from the rear. Both standard and competition type coolers had "Morris Motors Ltd. Radiator Branch Oxford" labels, stick-on for the standard type and screw-on acid-etched tag for the competition type. The first picture below shows an incorrect stick-on tag on a reproduction oil cooler. (Click for larger pictures).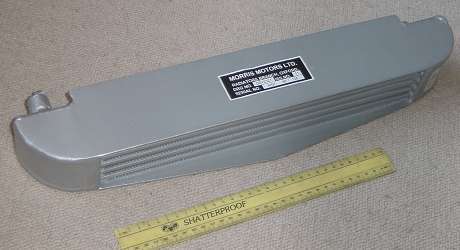 Four row oil cooler. These appear to have no fluid channel at top and bottom,


At 02:58 PM 8/29/05 +0200, Bo Giersing wrote:
"See attached. The 'Black Mamba' is YM2 554, photo taken in Feb 1959 at the MG main dealers in Durban, where it was being prepared for endurance racing. I have the official race reports, which also included Bob Olthoff's car – both cars had factory backing and were supplied with experimental 2 inch SU's – Bob had to give his back after the first race. There are more photos on the Twin Cam groups website. Also see the MGA Special Tuning Manual AKD819 (3.1-MB pdf), page 25."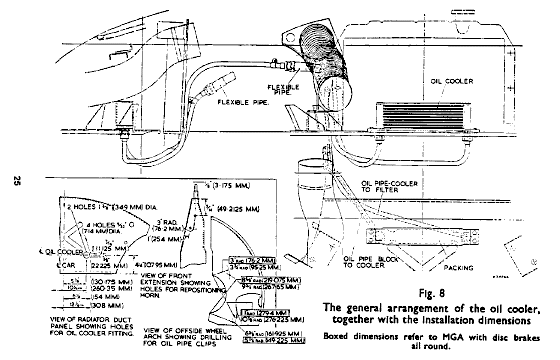 That 1960 version of the Special Tuning Manual shows the
later more common and taller oil cooler with ports on the bottom.