The MGA With An Attitude
WIPER ARMS and BLADES For MGA - ET-112A


Original wiper blades for the MGA are Lucas Rainbow Chrome with brass spoon fitting ("rainbow" referring to the curved glass).

There was a change of wiper arms and blades 2800 cars into production for LHD cars in March 1956 (about 800 cars and a month later for RHD cars).


Through March/April 1956:
BMC AHH5419,
Lucas 745075,
Arm, RHD -- 9", RH crank, 15 deg
BMC AHH5421,
Lucas 745084,
Arm, LHD -- 9", LH crank, 15 deg
BMC AHH5417,
Lucas 738724,
Blade -- 9"
Lucas 738736,
Rubber with backing plate -- 9"
After March/April 1956:
BMC 17H5513,
Lucas 745082,
Arm, RHD -- 9-1/2", RH crank, 15 deg
BMC 17H5514,
Lucas 745083,
Arm, LHD -- 9-1/2", LH crank, 15 deg
BMC 17H5512,
Lucas 737910,
Blade -- 8"
Lucas 737919,
Rubber with backing plate -- 8"

The (almost) half circle end fixing is referred to as "Wrist Action".
This is also sometimes referred to as "spoon fitting".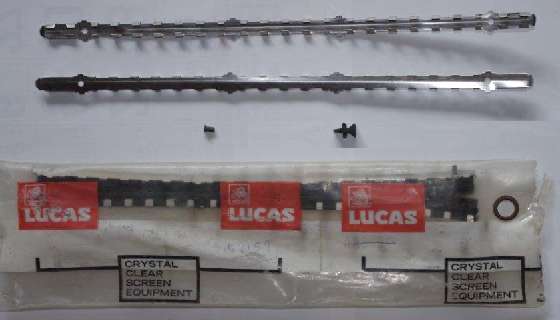 Stainless steel backing for rubber blade. (two views) Note two holes. One is for locking the holder to the carrier using the small brass pip shown. Also in the picture is a sample of the rubber blade (in section) Note the shape and the fact that the back of the rubber is flat.

For the blades, I find little or no reference to the later part number on the internet. The earlier part number Lucas Rainbow blades (9") are currently available (in limited quantity) from:
Vintage Supplies Ltd in the UK
Gregorys Autoparts in the UK
Small Ford Spares in the UK

Wiper blades I have been buying form Moss Motors USA are 9 inches long, fit fine and wipe a larger area of glass. They may not be concours correct, but the longer blades are appreciated for their function (every little bit helps when it rains).

Note from FR Millmore <!-gofanu at usachoice.net-> in Pennsylvania, USA:
"I discovered that wiping more glass area with longer blades is not nearly as useful as having more unit pressure by having shorter blades, probably why they changed these. You don't look through the bottom of the sweep anyway. Plus, they don't have as much tendency to blow off the screen at speed in a crosswind".

To determine the angle of crank, wiper arm should be placed in the appropriate position as shown.

The expression "LEFT HAND" and "RIGH HAND" is as viewed from the driver's seat.

Length of Wrist Action type arms should be measured from center of spindle to center of hook.



Above right: Original MGA wiper blade holders. Lucas (chrome on brass- "Rainbow" pattern for curved glass). A pair of NOS with 9 inch blades (ideal for the bigger screen on the Coupe).



Part numbers above are from www.vintagecarparts.co.uk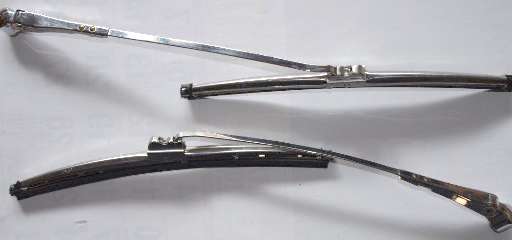 A pair of after market OEM MGA arms and stainless steel round back Trico blades.
This is usually what the suppliers send when you order MGA wiper parts.



These two photod are feom Jim Cheatham <!-jimcheatham at yahoo.com->. "TRICO Triple Action -- Made in England". But the blade is completely flat so it is doubtful it would work for the MGA coupe.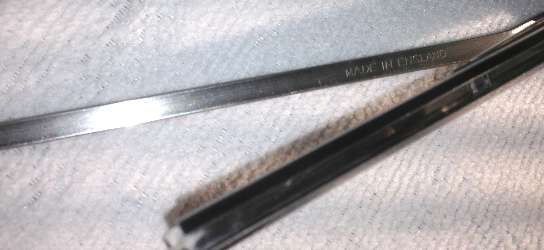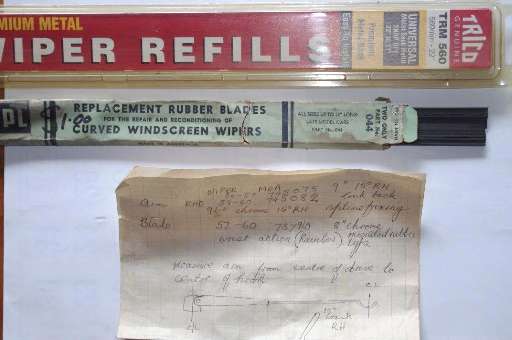 Trico replacement refills for the Trico round back blades. Note, suitable for the original MGA blades. The Trico are painted steel backed and designed to snap off to the required length. (like a utility knife blade). -- A packet of replacement rubber blades bought at Cannington swap for a dollar. They have flat back and work well in original MGA arms. -- Notes from 20 years ago.

Trico TRM560 is still made, at least in Australia:
Click for www.tricoproducts.com.au listing for MGA.
TRICO is a world wide corporation, so it may help to ask a local Trico dealer.
See original Rainbow wiper blades on next page.