The MGA With An Attitude
WIPER BLADES For MGA, Original Rainbow Type - ET-112B









These are close up pictures of original Rainbow wiper blades for MGA. Click for larger pictures.


Photos provided by André Kunz <!-andrekunz at bluewin.ch-> in Frauenfeld, Switzerland.


While quantities last you can still buy NOS Rainbow wiper blades (not the arms) here:
www.vintagecarparts.co.uk/products/697-container-wiper-blade-wrist-fitting-curved-screen

---
On 11/20/2014, Jim Cheatham <!-jimcheatham at yahoo.com-> wrote: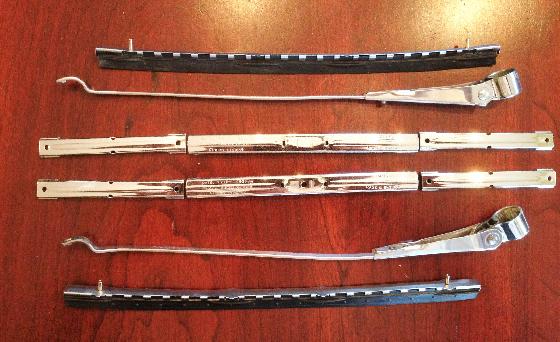 "Here is a set of used original Rainbow wiper arms and blades I recently bought and cleaned up. I bought new rubber parts on eBay. I took the blade holders apart to clean and polish them better and am waiting for new tubular rivets I bought to put the blade holders back together. They turned out pretty good. There is a little of the brass showing through the chrome but they look good enough to me that I plan to use them on my 57 Coupe". -- Jim

I reassembled the wiper blade holders and inserted the new blades. The rivets for the blade holders are 3/32" x 1/2". The original rivets are chromed brass but I could not find that spec rivet so I used stainless steel. I also replaced the rivets in the wiper arms since the chrome had worn off of them. These are stainless steel 3/32" x 1/4". I removed one rivet at a time from each wiper arm and replaced it with a new one before removing the second rivet. That way, the original rivet maintained the compression of the pieces so I didn't have a bunch of pieces to try to hold in place if I had removed both wiper arm rivets at the same time. Made more sense to me to do it that way.