The MGA With An Attitude
WIPER SPINDLE Rubber Grommet - ET-113B
On 7/3/2011, Mark Wellard <!-wellardm at optusnet.com.au-> in Australia wrote: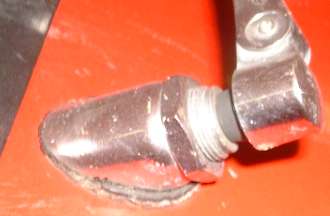 "I have some new seals for the wiper spindles on my car but I'm not sure how to install them. The remnants of the originals are still present but won't do much".

See prior article ET-113A for information to R&R the wiper wheelbox. For purpose of replacing the wiper arm (27) or seal (24) you do not need to remove the wheelbox, but you do need to remove the wiper arm, thin hex nut, and chrome bezel.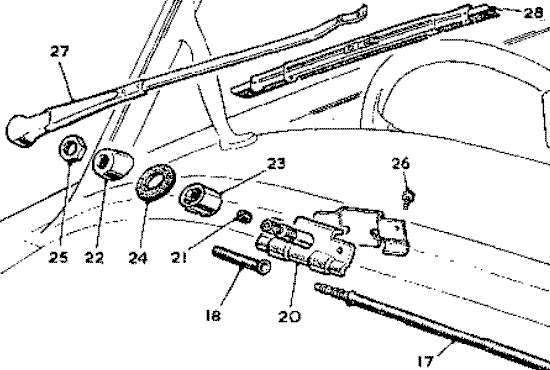 Illustration above is from "The MG Series MGA Service Parts List", Section N: Electrical Equipment, Page 14 Windscreen Wiper.
Items from 23 down go below the body sheet metal.
Items from 24 up go above the body sheet metal.
Remove items 27, 25, 22 to get to the seal for replacement. Do one spindle at a time, and the underlying parts should stay in place so you can work from outside only.

To remove the wiper bade, lift the arm, then lift the top end of the blade to rotate the blade upward 90 degrees, then pull the blade off of the end of the arm.

To remove the wiper arm, lift the arm 90 degrees to stand straight up where the spring should lock it in place. Then lift up on the heel edge of the hub shell while you lift and wiggle the arm to pull the shell off of the splined hub. Original type parts usually come apart okay. Some modern replacement arms may be very tight on the spindle. Some arms may have a spring steel latching finger under the heel edge of the arm hub. The hub may come off with a strong pull or a little prying under the edge. If not you may need to pull the spring finger back a bit to unlatch it from the splined hub.

The thin hex nut might unscrew if it was not there for too many years. Otherwise it is common for it to be corroded in place. Then use a sharp cold chisel and light hammer to split one side of the nut, and then unscrew it. The chrome bezel should pull off fairly easy, unless it is badly corroded. The seal is commonly sun baked, dried out, cracked, brittle, and stuck to the paint. Do try to remove remnants of the seal with removing the paint.

Reassembly is the reverse of disassembly, but hopefully a whole lot easier.